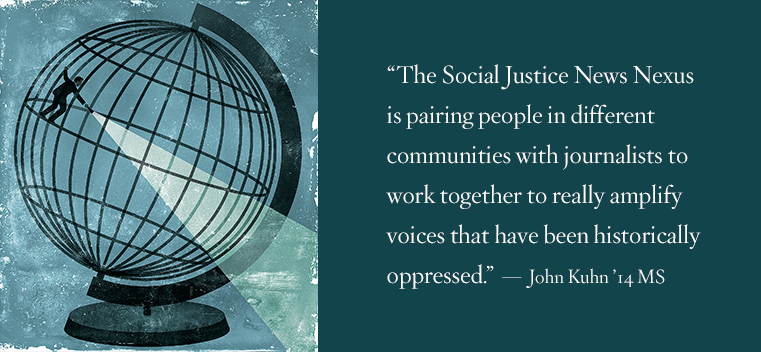 Illustration by Sam Ward
Stories That Matter
Story Tools
Share this story
The Social Justice News Nexus shines a light on inequality.
Adriana Cardona-Maguigad noticed an increasing number of men living on the street in Chicago's Back of the Yards neighborhood, where she ran a community newspaper. One day she asked one of the men where he came from. She was shocked by what she learned: He had been sent from Puerto Rico on a one-way ticket for drug treatment in Chicago.
Soon Cardona-Maguigad, then editor of the Gate, discovered nearly two dozen men with similar circumstances — they were heroin users shipped to the Windy City to seek treatment at what they were told were rehab centers with opulent amenities and caring medical personnel and social workers. Instead the men landed in one of a handful of unlicensed, unregulated 24-hour facilities run by former addicts who confiscated their IDs and used folk remedies and harsh treatment to help the users overcome their addiction. Many of the men dropped out and hit the street.
She pursued the story, which included a two-week reporting trip to San Juan, as a fellow in the first cohort of the Social Justice News Nexus, a Medill School of Journalism, Media, Integrated Marketing Communications initiative run by professors Jack Doppelt and Louise Kiernan '92 MS and journalism instructor Kari Lydersen '97. The McCormick Foundation–funded program, now in its third year, awards $5,000 stipends to fellows — local professional journalists and media makers — to pursue social justice–driven stories.
"I was a reporter in a very small publication," says Cardona-Maguigad, who did everything from editing and design to selling ads at the Gate. The SJNN fellowship provided her with resources and, more important, mentorship. "I had a team of editors and experts who helped me," she says. "I was living a dream." (Cardona-Maguigad is now an investigative reporter and producer at Univision Chicago.)
Her story, which aired in two parts on Chicago's National Public Radio affiliate, WBEZ, and This American Life, sparked several follow-up stories in the works by SJNN professional fellows and Medill graduate students, based on reporting in three other U.S. cities and Puerto Rico. (SJNN received a 2015 Sigma Delta Chi Award for excellence in journalism from the Society of Professional Journalists for the story.)
Graduate student Nikita Mandhani, from Bhopal, India, was part of the reporting team in Puerto Rico and also wrote several stories for SJNN on refugee and immigrant issues in Dearborn, Detroit and Hamtramck, Mich., communities that are home to large Muslim populations. "Everybody had a very interesting story, a very deep story to tell," she says. "They were suffering, but they also really embrace this country, because this is the country that actually gave them a chance to make their dreams come true."
SJNN has focused on drug policy and treatment; mental health; and housing, segregation and urban development during the first three reporting cycles. Upcoming stories focus on the Chicago Housing Authority's progress on its plan to replace existing or recently demolished developments. Other stories include a photo and video package on a homeless encampment, and a first-person chronicle by two SJNN fellows who are homeless.
The variety of voices makes social justice journalism work, Lydersen says. "It's journalism that aims to expose and change inequalities and inequities," she says. "It doesn't advocate for one specific outcome, but it does aim to make the world a better place through articles that are informed by and include the voices of the people most affected by the issues."
John Kuhn '14 MS became so engaged in Chicago's Englewood neighborhood during his year as a graduate student fellow with SJNN that he made it a point to work in the neighborhood after graduation.
"SJNN was a perfect way for me to take what we were learning in class and make it come alive. It pushed me to work with people that maybe I wouldn't have immediately connected with otherwise," says Kuhn, who teaches English at Magic Johnson Bridgescape, an alternative school in Englewood. "A large part of my job here at school is to try to give kids the tools to amplify their own voices, and I think that's so much of what SJNN is doing and has done. It's pairing people in different communities with journalists to work together to really amplify voices that have been historically oppressed."
Doppelt, SJNN principal investigator, calls it "giving voice lessons to the voiceless." And he says that's increasingly the focus for students like Kuhn, who are part of a changing demographic at Medill. The social justice and investigative reporting specialization is now the most popular track in the Medill graduate program. 
"It's a refocus of student attention from the more traditional politics and urban affairs to something that is a more dynamic inquiry for changes in the system," says Doppelt. "We're shining a light on the problems that are produced by societal inequalities, and the idea is to have in-depth, personal stories lead to people realizing what those inequities look and feel like."