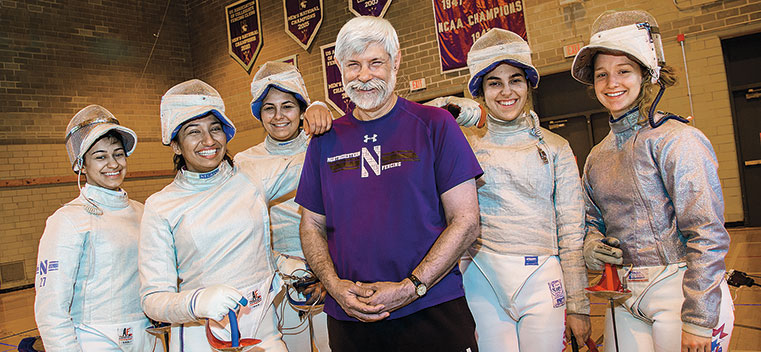 Fencing coach Laurie Schiller with, from left, Alisha Gomez-Shah, Sacha Bazzal, Julia Abelsky, Emine Yücel and Maddie Curzon. Photo by Michael Goss.
Point of Attack
Story Tools
Share this story
Historian Laurie Schiller wraps up storied fencing coaching career.
The most surprising thing about Laurie Schiller's 38-year run as Northwestern's fencing coach is that it happened at all.
Schiller '82 PhD came to Northwestern after competing as a fencer at Rutgers University, where he was a three-year letterman and co-captain of the Scarlet Knights. "I didn't come here to be a coach," he says. "I came here to get a PhD [in African history] and go be a professor somewhere."
In a sense, that came true. The Civil War buff taught history at Northwestern as an adjunct professor until 2003. He has also published works on cavalry tactics and volunteers as a Civil War re-enactor with the 104th Illinois Volunteer Infantry.
Along the way Schiller also had a history-making career as Northwestern's fencing coach. He racked up more than 1,250 career wins, guiding both the men's and women's teams until 1994 (when the men's varsity program was dissolved) and the women's varsity program ever since. Schiller, the two-time United States Fencing Coaches' Association Collegiate Coach of the Year, retires as Northwestern's all-time winningest head coach in any sport and the NCAA's second all-time winningest fencing coach.
His squad ended the 2015–16 season with a top-10 finish at the NCAAs for the 17th consecutive year. Schiller earned Midwest Fencing Conference Coach of the Year honors for the 11th time. It was a fitting capstone for the soon-to-be 66-year-old's victory tour.
"I didn't want to be that old guy," Schiller says of his retirement. "People keep asking me, 'Why are you retiring?' Good, I'm glad to hear that question. It's a lot better than 'Thank God you're done.' "
Based on the nature of the sport, many coaches act as taskmasters, micromanaging their athletes. Schiller, though, says he found that strategy to be counterproductive, especially when taking a holistic look at the student-athlete experience.
It's nice to be recognized for the program's success, he says, "but my satisfaction comes from working with these young people for 40 years and knowing how many of them have gone on to successful lives and careers and that we've affected them positively. That's ultimately why I do this."