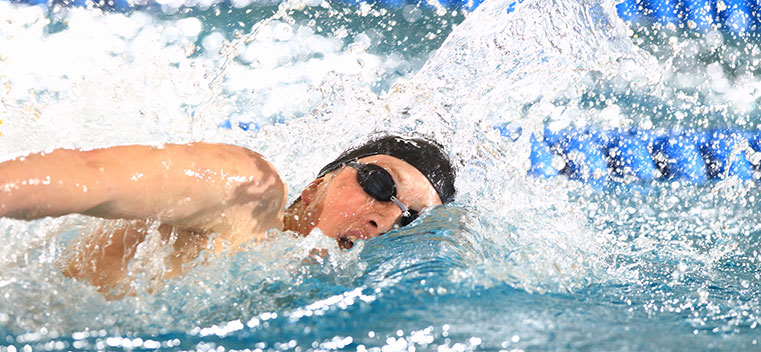 Jordan Wilimovsky competes on the second day of competition at the 2014 Big Ten Championships. Walt Middleton Photography.
Wilimovsky 'Super Stoked' for Olympic Swim
Story Tools
Share this story
Northwestern swimmer won 2015 world title in Russia.
You would never know that Jordan Wilimovsky is preparing for the biggest race of his life. The 5-foot-9 Californian is back in his hometown outside of Los Angeles training for the 10K open water swimming race at the 2016 Summer Olympics, and he's as relaxed as can be.
Wilimovsky, a would-be senior, took an Olympic year for the 2015–16 swimming season at Northwestern to train full time for this summer's games, which he qualified for in July 2015 by winning the FINA World Championships in Russia.
"When I first made it, I was super stoked," Wilimovsky says. "Now I don't really think about it every day. I just try to do what I've always done and improve at swimming and prepare myself the best I can."
To do that, Wilimovsky is training with the same coach he has trained with since he was 16. Their method is a bit unorthodox when compared with other open water swimmers. Wilimovsky and his coach prefer to train in the calmer waters of the pool as opposed to the unpredictable open water.
The pool training, he says, allows him to be more of a tactician, quantifying workouts and perfecting the efficiency of his strokes.
Much has been made about the condition of the water in and around Rio de Janeiro, as reports of dangerous levels of pollution and contamination have surfaced. Wilimovsky and other members of USA Swimming took a sightseeing trip down to Rio in January and got to see the course, which is just off the shores of Copacabana Beach.
"I don't really think about it," he says. "They tested the water, and they said it's fine to swim in. We're not going to have any long-term problems. It's just a little dirty. On race day, if it's dirty I'm going to swim in it. If it's clean, I'm going to swim in it."
Not much gets to the laid-back Big Ten champion and All-American — not even the level of competition he'll be facing.
"It's just racing," he says. "You just want to beat the person next to you."