Collections: Sexism
Story Tools
Share this story
Sexism, the board game of women's liberation, follows the journey from the dollhouse to the White House.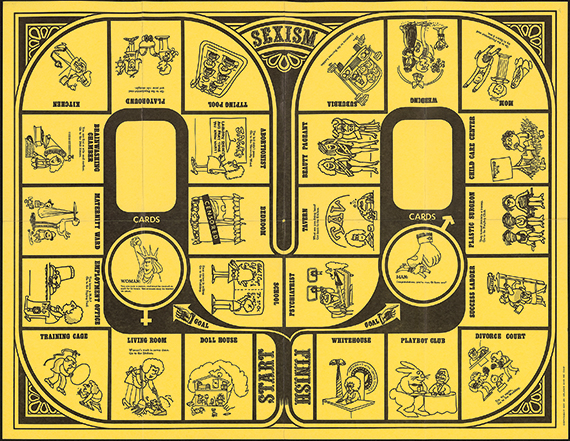 Need a new idea for your next game night? Give Sexism a try.
The board game, created in 1971, was sold as a promotional tool for the National Organization for Women. Seattle housewife Carolyn Houger told United Press International in 1972 that she conceived the idea for the game after her 4-year-old daughter remarked, "Wouldn't it be terrible to be an old maid?" after playing the card game Old Maid. 
A feminist, Houger was not amused. By creating Sexism, she hoped to combat real-life sexism and spark a dialogue about gender equality, while highlighting the more humorous side of the women's liberation movement.
The game's premise is simple: move your player from the dollhouse to the White House. Each person begins by choosing to play as "a male chauvinist or a woman who wants to be liberated." (You're encouraged to play as the opposite gender.) Players then move along the board by drawing different cards depending on their chosen gender. Along the way, players encounter comical but hard-hitting squares that reflect some of the obstacles women face in a male-dominated world.
The first one to reach the White House at the end of the game wins.
NOW sold the game for $5, but it was eventually discontinued. A few copies of the game still exist, including one held in the Charles Deering McCormick Library of Special Collections as part of Northwestern's Femina Collection, one of the largest second-wave feminism collections in the country.