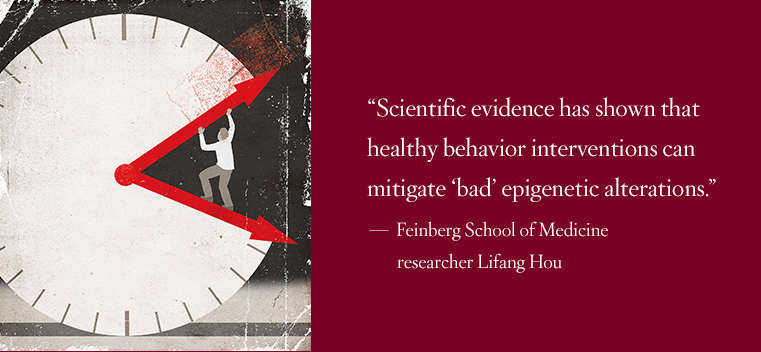 Illustration by Sam Ward
A New Cancer Predictor
Story Tools
Share this story
Read more about Lifang Hou's appointment to a panel of scientific experts, cancer leaders and patient advocates that will inform the scientific direction and goals at the National Cancer Institute of Vice President Joe Biden's National Cancer Moonshot Initiative to accelerate cancer research.
Tell us what you think. E-mail comments or questions to the editors at letters@northwestern.edu.
Find Us on Social Media
New study shows increased risk of cancer when your biological age is older than your chronological age.
Epigenetic age is a new way to measure your biological age.
"Ideally our chronological age and our biological age are supposed to be similar," says Lifang Hou, chief of cancer epidemiology and prevention in preventive medicine at the Feinberg School of Medicine. "However, our epigenetic age can be heavily influenced by our environment. For example, obesity, smoking, air pollution — anything that is bad in our environment — will accelerate our epigenetic age."
When your biological or epigenetic age is older than your chronological age, you are at increased risk for getting and dying of cancer. And the bigger the difference between the two ages, the higher your risk of dying of cancer.
"This could become a new early warning sign of cancer," says Hou. "The discrepancy between the two ages appears to be a promising tool that could be used to develop an early-detection blood test for cancer."
According to Nature, epigenetics is the study of chemical and structural modifications made to the genome that do not alter the DNA sequence but that are passed along as cells divide and can influence how genes are expressed. A person's epigenetic age is calculated based on an algorithm measuring 71 blood DNAmethylation markers that could be modified by a person's environment. In DNA methylation, a cluster of molecules attaches to a gene and makes it more or less receptive to biochemical signals from the body. The gene itself — your DNA code — does not change.
"Most people know genetics, right?" says Hou. "That's what we've inherited from our parents. Epigenetics occurs on the surface of our DNA sequence. It is an interface between our genetics and our environment."
Hou, director of global health and co-leader of the cancer prevention program at the Robert H. Lurie Comprehensive Cancer Center of Northwestern University, led the first study using multiple blood samples collected over time to link the discrepancy between epigenetic age and chronological age with both cancer development and cancer death. The multiple samples, which showed changing epigenetic age, allowed for more precise measurements of epigenetic age and its relationship to cancer risk. Other studies have looked at blood samples collected only at a single point in time.
The study was a longitudinal design with multiple blood samples collected from 1999 to 2013. Scientists used 834 blood samples collected from 442 participants who were free of cancer at the time of the blood draw.
For each one-year increase in the discrepancy between chronological and epigenetic ages, there was a 6 percent increased risk of getting cancer within three years and a 17 percent increased risk of cancer death within five years. Those who will develop cancer have an epigenetic age about six months older than their chronological age; those who will die of cancer are about 2.2 years older, the study found.
"Our results suggest future researchers should focus on the epigenetic-chronological age discrepancy for its potential to show a big-picture snapshot of human health and disease at a molecular level," says co-first author Yinan Zheng '12 MS, a predoctoral fellow at Feinberg.
Northwestern scientists now are studying whether individuals can lower their epigenetic age through lifestyle improvements, notes Brian Joyce, co-first author and predoctoral fellow at Feinberg.
"One of the characteristics of epigenetics is that it's modifiable," says Hou. "It is inducible by our environment, but also it's reversible.
"Scientific evidence has shown that healthy behavior interventions can mitigate 'bad' epigenetic alterations," Hou says, and her own data has demonstrated slower epigenetic aging among those who are more physically active. She says the next step for scientists in this area is to conduct research focusing on whether lifestyle changes — for example, how much we exercise or what we eat — can reverse or slow down our epigenetic aging.
Hou plans to do additional, larger research studies, including in multiple ethnic groups and segmented by gender or particular environmental factors.