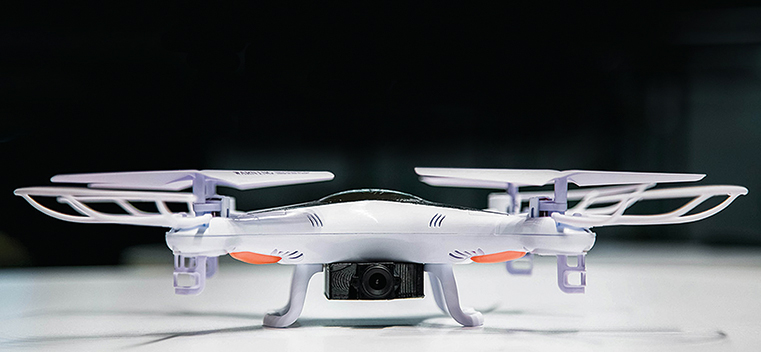 A Drone in Every Home
Story Tools
Share this story
Leave the lights on? Forget to unplug the toaster? Need to check on the dog? Jackie Wu '13, '15 MS, a recent robotics master's degree grad, and his team of student entrepreneurs at Eighty Nine Robotics have an answer for you: Rook, an indoor drone that syncs to your smartphone and can be controlled from anywhere.
Wu, the CEO of Eighty Nine Robotics, is currently targeting individual consumers who can use Rook — currently priced at $179 for preorders — as a flying security camera. In the long term he hopes to sell the drone to real estate companies to create virtual home tours.
Wu has taken full advantage of the University's robotics and entrepreneurship resources. Todd Murphey, director of the Master of Science in Robotics and Control Program, is one of more than two dozen Northwestern faculty members involved in robotics. The graduate program, Murphey says, is part of Northwestern's response to a national demand for robotics opportunities, and the opportunities at Northwestern set it apart from other institutions.
Wu also credits the Garage, an on-campus innovation facility and startup incubator, with much of his company's success. "We've been in the Garage since it opened, and it's been fantastic," he says. "They have amazing mentors, and the staff has been very helpful with incorporation, patents and accounting."
Wu and his team have raised more than $57,000 on Indiegogo and hope to get Rook in the hands of consumers by early 2017.