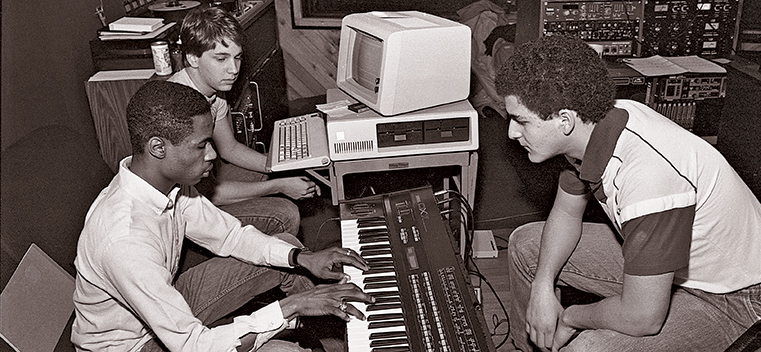 From left, singer-­songwriter John Ray '86 and producers Jon ­Shapiro and Ric Mandell at Studiomedia during the recording of "Just One Look" in 1985. Courtesy of Northwestern University Archives.
Then: After Hours Education
Story Tools
Share this story
Tell us what you think. E-mail comments or questions to the editors at letters@northwestern.edu.
Ever wonder about those strange designations we use throughout Northwestern to identify alumni of the various schools of the University? See the complete list.
Find Us on Social Media
When the first music video aired on MTV in the early 1980s, Eric Bernt '86 and Jon Shapiro '87 jumped into the new medium, creating a music video production company run entirely by Northwestern students.
Shapiro had spent his high school years interning at a recording studio in New York and often brought in his friends at night to record and produce their own material. With Shapiro's production knowledge and Bernt's business acumen and enthusiasm, the two launched the Niteskool Project in 1983–84.
Bernt and Shapiro wanted the project to include a variety of student experiences, including marketing, advertising, production and composition. By night the students rented the studio at Evanston's Studiomedia Recording and at a leading commercial post-production company.
"It wasn't just about producing student music," says Shapiro, who went on to a career as an Emmy Award–winning Hollywood producer. "It was about creating something at the highest level of professionalism possible."
The 14-student Niteskool team recorded two songs on a 12-inch record — "Love Lie" by Francis Banich '86 and "Ambition" by Shapiro and Eric "Ric" Mandell '86 — and produced one music video in 1984, which they premiered to an overflow audience at Annie May Swift. The video for "Ambition" garnered interest from MTV and Nickelodeon, and Niteskool received a student Emmy for its 1986 video for "Next to You."
To get Niteskool off the ground, the pair raised funds from the School of Communication, picked up sponsorship from Miller Brewing Co. and secured a loan from the Associated Student Government — which they repaid with proceeds from record sales only three days after the songs had been released.
The organization, the oldest undergraduate student-run record label and video production company in the country, continues to produce one large-budget music video a year. (The 2014 video features "fusion" by maeve and quinn, twins sisters Bryce Quinn and Maris Maeve O'Tierney. See "Musical Resonance.")
Bernt, a Hollywood screenwriter and director whose writing credits include
Romeo Must Die
, says he's always pleased with what Niteskool students produce. "As a collective body of work it's really impressive," he says. "There's a real diversity of genres and styles represented and a consistently high level of production in each year's work. I'm also really humbled that it has continued on for this long."