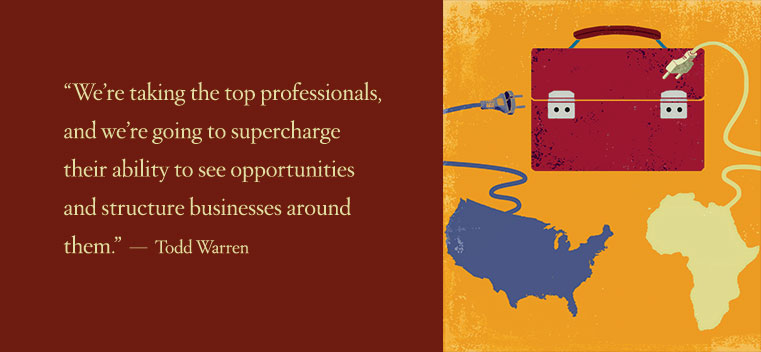 Illustration by Eva Vazquez.
Powering Up African Entrepreneurship
Story Tools
Share this story
Tell us what you think. E-mail comments or questions to the editors at letters@northwestern.edu.
Ever wonder about those strange designations we use throughout Northwestern to identify alumni of the various schools of the University? See the complete list.
Find Us on Social Media
Leadership initiative brings together unlikely University partners.
Five hundred up-and-coming African leaders are coming to America — and 25 of them will spend six summer weeks at Northwestern. The mainly 25- to 35-year-olds, selected by the U.S. State Department, are participants in the Young African Leaders Initiative, an Obama administration program to support and develop leadership and strengthen partnerships between the United States and Africa.
Northwestern's Program of African Studies is one of 20 YALI host institutions across the country. For more than six decades the program has educated Africanists and African leaders, often in the arts and sciences, but in this venture the YALI fellows will explore business and entrepreneurship. They will attend courses taught by faculty from Northwestern's Farley Center for Entrepreneurship and Innovation and the Center for Leadership — "a classic example of Northwestern collaboration," says Farley Center director Mike Marasco. 
"The goal of the effort is to establish or build upon a foundation they have in entrepreneurship and facilitate two-way learning," adds Marasco, a clinical professor of industrial engineering and management sciences who hopes the program serves as a foundation for a global entrepreneurship class. "From our perspective it's an opportunity to learn about the way people from different countries in Africa think about entrepreneurship."
For example, Marasco says he's interested in learning from the fellows about disruptive technologies — innovations that disrupt existing markets and value networks— that are emerging in Africa, where mobile technology is rapidly expanding.
The YALI participants, who will live at Foster-Walker Residential Complex, will visit Chicago-area business and entrepreneurship hubs, including 1871, the Merchandise Mart incubator space for digital startups, and the Chicago Board of Trade. They'll meet Chicago-area members of the African diaspora, pitch their business plans to entrepreneurs and get to know local government and business leaders.
"We want to show them how Americans think about entrepreneurship, how people do business here, the relationship between business and government," says Will Reno, director of the Program of African Studies. "One of the things that was a good sell for us in getting the grant was the idea of metropolitan governments collaborating to solve problems. For a lot of Africans who have to deal with governments that are really weak or ineffective at the central level, they get to see a different model, where cities and states are trying to solve problems and figure out ways to cooperate with other authorities."
The program will also call on current students and alumni who are working in entrepreneurship or at large companies. Former Microsoft executive Todd Warren '87, an adjunct faculty member in the Farley Center's NUvention: Web program, will teach in the YALI initiative. He is also a founding board member for Ashesi University in Ghana, where he will teach entrepreneurship in the fall.
"With YALI, we're taking the top professionals, and we're going to supercharge their ability to see opportunities and structure businesses around them," says Warren, managing partner at Divergent Ventures, a Pacific Northwest venture capital firm that invests in early-stage software and Internet companies. "For the University it's an opportunity for us to make connections and expand our presence in Africa."
Northwestern and the Program of African Studies already have a strong alumni base on the continent, thanks in part to a Ford Foundation–sponsored boom in African scholarship at U.S. institutions after the 1950s, Reno says. He hopes this initiative will add to that network. "But it will be a different crowd," he says. "I think the participants in this leadership initiative are going to be people whom our students will look at and say, 'Those are people I want to do business with.' "
The five-year, $200,000 per year program is funded by the University and the State Department. When the initiative ends in late July, the fellows will attend a summit with President Barack Obama '06 H. Some fellows will stay in the United States to participate in an eight-week internship.