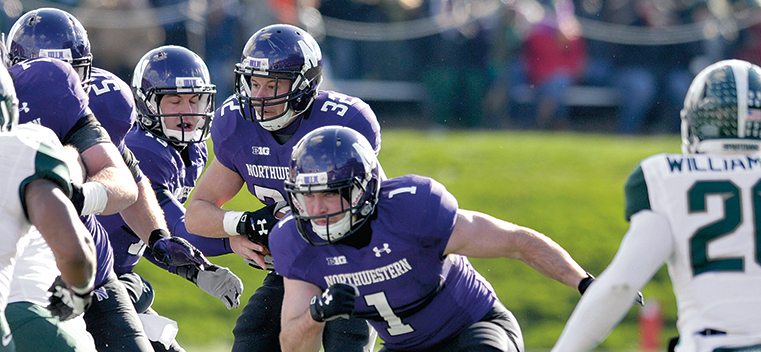 Tim Hanrahan (1) blocks during Northwestern's loss to Michigan State last November. S.J. Carrera Inc. 2013.
No. 1 Priority
Story Tools
Share this story
Tell us what you think. E-mail comments or questions to the editors at letters@northwestern.edu.
Ever wonder about those strange designations we use throughout Northwestern to identify alumni of the various schools of the University? See the complete list.
Find Us on Social Media
Senior special teamer Tim Hanrahan embodies Wildcat values.
On most college football teams the No. 1 jersey is worn by a player with flash, an exciting athlete, someone who makes jaws drop.
At Northwestern the philosophy is a little different. When the number becomes available, the coaching staff votes on the player who best embodies "Wildcat values": being a dedicated student, teammate and community member.
Last August the shirt was awarded to senior Tim Hanrahan after belonging to notable, spirited locker room personality Bo Cisek '12.
"I had mixed emotions," says Hanrahan of receiving the number. "It's certainly an honor and a privilege to wear that jersey and carry on that newer tradition [which began in 2011]. Part of me was thinking Coach Fitz must have just picked my name out of a hat because there are 100 other guys on the team who deserve it just as much as I do. I didn't feel like I did anything spectacular to separate myself."
Hanrahan, a special teams contributor and reserve tailback and two-time Academic All-Big Ten selection as a chemical engineering major, placed emphasis on the value of the Northwestern football culture.
"There are expectations that come with [wearing the No. 1]," he says, "but I think they also come with playing football here. I'm sure the jersey adds to them a little bit, but when you play for a prestigious university and are trying to make it a prestigious football program as well, there are expectations that come with that and I think those are first and foremost."
After a disappointing 5-7 season, the Wildcats entered spring practice particularly excited for a fresh slate. Northwestern will open its 2014 campaign in Evanston against the University of California, Berkeley, the first of three straight home games.
"I think everybody was ready to get the pads back on, kind of wash the nasty taste out of our mouths from last season," Hanrahan said of spring practice. "More important, we're focused on where we're going and not dwelling on stuff from last year. I think there's a heightened sense of urgency to correct some of the fundamental things that led us to lose those games."