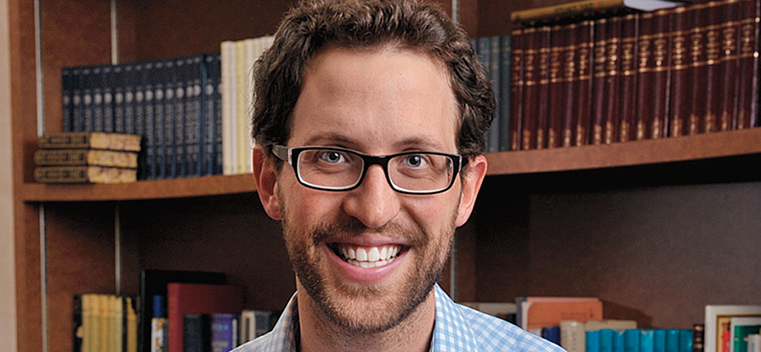 Aaron Potek. Photo by Bruce Powell.
Faith and Humor
Story Tools
Share this story
Tell us what you think. E-mail comments or questions to the editors at letters@northwestern.edu.
Ever wonder about those strange designations we use throughout Northwestern to identify alumni of the various schools of the University? See the complete list.
Find Us on Social Media
Fiedler Hillel rabbi finds spiritual lessons in improv comedy.
Aaron Potek is not your typical rabbi. The 27-year-old recent rabbinical school graduate joined Northwestern's Fiedler Hillel Center staff in July last year, bringing a comedic perspective to studying and teaching Judaism. Potek, who mixes earnestness and wit in his teachings, recently wrapped up a two-person show at Chicago's iO Theater, where he takes improvisation classes. At Hillel he helps guide ShireiNU, a Jewish a cappella group, and the Jewish Theatre Ensemble.
What drew you to Northwestern?
"Obviously I wanted a school with smart students because I want to engage with topics in a deep, critical, thoughtful way. I'm not really here to impart my deep wisdom on the uninformed masses. I actually want conversations and questions and critical thinking. Jewish learning isn't done in a vacuum."
What's your role as rabbi?
"My job is to help Jews understand their place in the Jewish world and guide them on their own Jewish journey. I kind of use a community-organizing model. I meet with students one on one, get a sense of what they're interested in learning and try to make spaces for that to happen."
How does improv inform your approach to life and faith?
"There's really a theology behind improv, I feel. This idea that there's no such thing as a mistake sounds trite, but in improv there is actually no such thing as a mistake. A mistake is a gift. There are so many profound lessons behind improv that I believe are deeply spiritual. It encapsulates so much of what I'm trying to do as a rabbi, which is to help people live a more meaningful and intentional life, one that is full of joy."