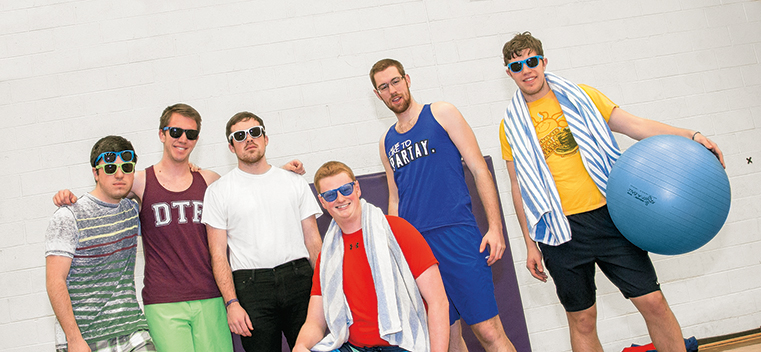 Photo by Michael Goss.
All The Single Ladies
Story Tools
Share this story
Tell us what you think. E-mail comments or questions to the editors at letters@northwestern.edu.
Ever wonder about those strange designations we use throughout Northwestern to identify alumni of the various schools of the University? See the complete list.
Find Us on Social Media
Intramural hoops squad takes a fun-loving approach on the hardwood.
"We don't care about winning, but we hate losing," says Jens Notstad '09. That's the first thing you need to know about the Single Ladies intramural basketball team.
Formed by Notstad, then a junior, in winter 2008, the Single Ladies approach the game a little differently. "We kind of poke a little fun at all the folks who take IM sports pretty seriously," says Notstad, who continued to play with the Single Ladies while he worked as a catechist at Northwestern's on-campus Church of the Redeemer.
One of 95 teams in Northwestern's white league, the 15-member squad spices up each game with a different, goofy theme. They might dress up in gear from other sports for one game. They'll show up as their favorite animal for another. Beach day is always a fan favorite. The one constant is their warm-up music: Beyoncé's "Single Ladies," naturally.
Notstad, for one, loves the reactions, "whether it's from the opposing team, the referees or anyone in the gym, really. That keeps it pretty exciting. Some teams have gotten in on the joke and had a great time; others absolutely hate that we're not taking it seriously."