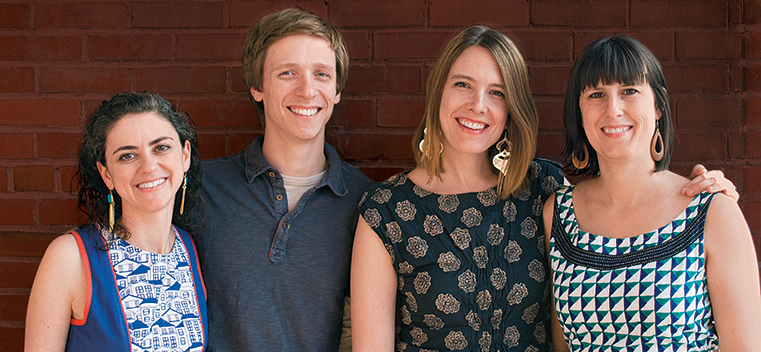 From left, Jonit Bookheim, Scott ­Rosenjack, Maureen Dunn and Michelle King. Photo by Katie Gavenda.
Jonit Bookheim, Maureen Dunn, Michelle King and Scott Rosenjack: Fair-Trade Fashion
Story Tools
Share this story
Tell us what you think. E-mail comments or questions to the editors at letters@northwestern.edu.
Ever wonder about those strange designations we use throughout Northwestern to identify alumni of the various schools of the University? See the complete list.
Find Us on Social Media
When Jonit Bookheim '99, Maureen Dunn '99 and Michelle King '99 met on their very first day of freshman year on the first floor of Allison Residential Community, they became an inseparable trio. They developed a passion for travel, which became a defining aspect of their friendship. In 2003 Bookheim, Dunn and King went on a trip to India, Nepal, Turkey and Greece. But India, where they spent four months, stuck with them. "India gets in your bones," says Dunn, who returned to the subcontinent on buying trips for her Chicago-based clothing company, Mata Traders. In 2007 Dunn brought King in as a partner, and Bookheim and Scott Rosenjack '00 followed in 2011. A retail and wholesale operation, the company offers a vintage-inspired, fairly traded fashion line featuring dresses, skirts, tops and jewelry. Mata Traders topped $1.35 million in sales in 2013. The company's products are produced by cooperatives — organizations that empower women through education, health care services and equal employment opportunities — in Delhi, Mumbai and Rajasthan, India; and Kathmandu, Nepal. The women, many of whom come from impoverished rural and urban communities, are trained in skills from traditional hand embroidery to financial planning. "The cooperatives transform their lives," Dunn says. "It's not just about a good livable wage. It's about lifting people out of poverty."