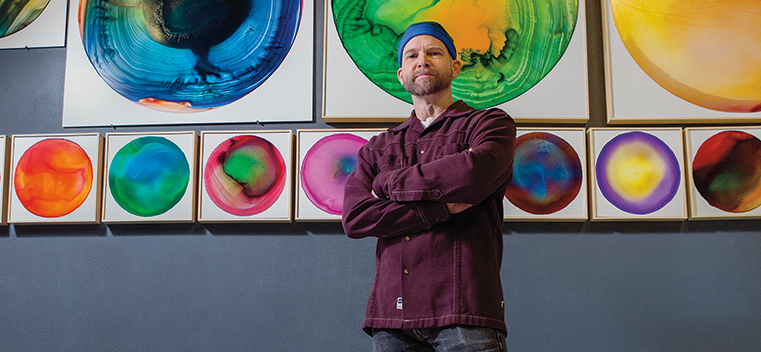 Photo by Lauren Pond '09
John Sabraw: "Toxic" Artist
Story Tools
Share this story
Tell us what you think. E-mail comments or questions to the editors at letters@northwestern.edu.
Ever wonder about those strange designations we use throughout Northwestern to identify alumni of the various schools of the University? See the complete list.
Find Us on Social Media
For John Sabraw '97 MFA, painting is about both aesthetics and activism. The 45-year-old artist and professor at Ohio University has become well known for his "Toxic Art" — colorful paintings whose pigments contain rust-colored iron oxide from Ohio coal mine runoff. The works address issues of environmental sustainability. Sabraw and his team collect polluted water from mine runoff, neutralize toxicity, extract iron oxide and combine it with acrylic or oil binder to form a range of yellow-, red- and brown-hued paints, which he then applies to aluminum or canvas. While his paintings have earned him acclaim, Sabraw says the ultimate goal is to create a sustainable pigment product that can be used for commercial purposes. Sales of the American-made "toxic" pigment would help fund the remediation of toxic runoff in Ohio, which was named the most polluted state in the nation by the energy news website OilPrice.com in 2012. A longtime activist, Sabraw tries to ensure that his artistic processes, as well as his studio, are environmentally friendly and sustainable. Environmental issues, he says, cross all boundaries. "Whether you're dealing with mass extinction, climate destabilization, human rights issues such as slave trade, or anything else," he says, "almost all can be tied back to sustainability, the environment and the sharing or lack of sharing of natural resources." Sabraw's paintings are available at Thomas McCormick Gallery in Chicago. McCormick gave Sabraw his first solo exhibition after he saw Sabraw's MFA thesis exhibition at Northwestern's Dittmar Gallery.