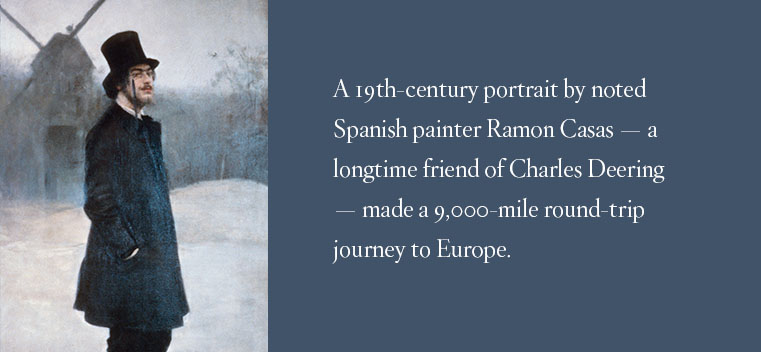 Ramon Casas' portrait of early 20th century French composer and pianist Erik Satie was donated to Northwestern by Mrs. Chauncey McCormick, one of the daughters of Charles Deering, in 1956. It has traveled around the world to be included in major museum exhibitions. Courtesy of Northwestern University Library.
Collections: On the Road with Ramon Casas
Story Tools
Share this story
Tell us what you think. E-mail comments or questions to the editors at letters@northwestern.edu.
Ever wonder about those strange designations we use throughout Northwestern to identify alumni of the various schools of the University? See the complete list.
Find Us on Social Media
Prized painting takes a road trip.
The prospect of traveling from Chicago to Paris and Madrid with a valuable 19th-century painting may sound glamorous, but Tonia Grafakos, Northwestern's conservation librarian, knows firsthand how taxing such a trip can be. In September Grafakos transported Ramon Casas' 1891 portrait of French composer Erik Satie to Paris' Grand Palais for an exhibition on the history of Bohemian artists and a subsequent exhibit, also on Bohemian artists, at the Fundación MAPFRE in Madrid.
"It's really a lot of hard work," Grafakos says of escorting the approximately 84-by-46-inch painting from Deering Library's Eloise Martin Reading Room to Paris and Madrid and back again.
The painting, El Bohemio, Poet of Montmartre, was never unsupervised, Grafakos explains — she was responsible for the painting's safety throughout the entire 9,000-mile round-trip journey. Only when the painting traveled through airport security was it turned over to a licensed agent, and Grafakos was able to leave the painting when it was secured in the Grand Palais vault before its installation. Grafakos said she felt privileged to be a good steward of the Northwestern treasure throughout the journey.
The painting will travel again to Germany in January 2014. Afterward it will hang in Deering Library as a vestige of the friendship between Charles Deering and Casas. Deering, who was a collector and admirer of Casas' work, established a lifelong friendship with the Spanish painter. Casas often sketched images of himself and Deering, and the two men traveled together frequently.
An illustrated bilingual art book published by Northwestern University Press titled Charles Deering and Ramon Casas: A Friendship in Art (2012) presents the friendship between Casas and Deering with images of oil paintings and sketches by Casas from private collections and the Art Institute of Chicago. There are many Casas sketches in the Charles Deering McCormick Library of Special Collections. University Archives also has a Casas drawing of Charles Deering's son, Roger.