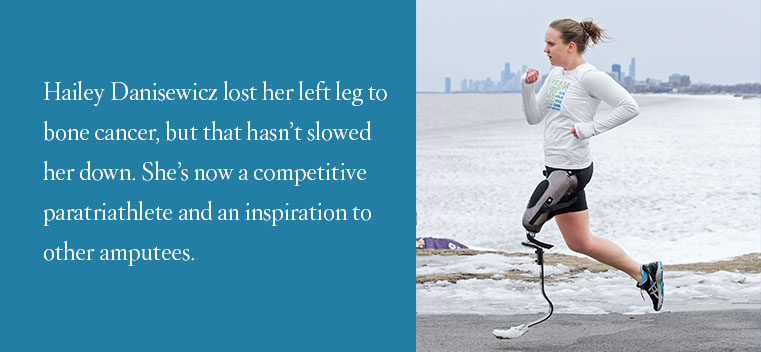 Photo by Elaine Villaflores/Lilgirlbigcam Photography
A Born Competitor
Story Tools
Share this story
Anne Stein, an Evanston journalist, wrote this article.
Two weeks after the Boston Marathon bombings in April Hailey Danisewicz traveled to Boston with the Semper Fi Fund, a group that works with injured Marines, to reassure victims of the blast that, despite the loss of limbs, "they could still live big, beautiful lives." Read more about her experience on Danisewicz's blog, "Road to Triumph."
Danisewicz also participated in a 2011–12 study of brain-controlled prostheses with Northwestern professor Levi Hargove at the Rehabilitation Institute of Chicago's Center for Bionic Medicine.
Tell us what you think. E-mail comments or questions to the editors at letters@northwestern.edu.
Ever wonder about those strange designations we use throughout Northwestern to identify alumni of the various schools of the University? See the complete list.
Find Us on Social Media
Paratriathlete Hailey Danisewicz rediscovered her inner athlete.
When Hailey Danisewicz earned a silver medal at the International Triathlon Union world championships in Auckland, New Zealand, last October, it was an exciting accomplishment. But it didn't measure up to her first triathlon 15 months earlier, the South Shore Triathlon, which began and ended on Chicago's very own 63rd Street Beach.
"That was one of the best moments of my life," says Danisewicz, a senior in the School of Education and Social Policy. "After that I decided I loved triathlon and I wanted to keep doing it."
Growing up in Wauwatosa, Wis., Danisewicz played every organized sport she could. Of the four girls in her family she was the most athletic and was looking forward to playing high school basketball.
In sixth grade, however, she was diagnosed with osteosarcoma, a form of bone cancer, and underwent surgeries and chemotherapy. Though the cancer was gone after a year, her left leg didn't function well.
"I reached the point where I didn't feel it was worth it to carry around this 'dead weight' when I could get an artificial leg that could do all the things I wanted," Danisewicz says. At age 14, with the support of her parents and physicians, she decided to have the leg removed. "I thought it would help me become an athlete again," says Danisewicz, explaining one reason behind her decision. "I had really missed not being able to do the sports I loved."
Within four months she learned to ski, and over the years she tried other sports.
At Northwestern, while doing her SESP practicum at the Rehabilitation Institute of Chicago, Danisewicz helped plan a camp for injured veterans and coached participants in the adaptive ski program. But it wasn't until her sophomore year, when she was hunting for an internship, that she became a competitor again.
Danisewicz was interviewing at Great Lakes Adaptive Sports Association when then-GLASA program director Keri Schindler asked what sports she was currently doing. Danisewicz said she hadn't competed since she'd lost her leg, so Schindler proposed a triathlon as part of the internship requirement.
Danisewicz started training with Dare2tri, a Chicago paratriathlon group founded by Schindler and paratriathlon world champion and Iraq War veteran Melissa Stockwell, who's now Danisewicz's mentor, competitor and close friend. "At first I hated it — I wasn't good at swimming, biking or running and I was just doing the race to cross it off my list," admits Danisewicz, who credits Stockwell with getting her through many a rough workout.
 Since then Danisewicz has fallen in love with the sport and now trains six days a week, getting up at 5 a.m. for hourlong swims, runs or two-hour bike rides.
Volunteering and mentoring within the cancer and disability communities are also important to Danisewicz. During her first three years in college she was involved with the Northwestern student group Cancer Outreach Prevention & Education, serving as its vice president.
She's also served on the executive board for Camp Kesem, a student-run camp with nationwide chapters, including one at Northwestern, for children who have a parent with cancer. "These were both great opportunities for me to give back to the cancer community," Danisewicz says.
She also helps coach younger and newer athletes in Dare2tri's program and is a counselor at One Step at a Time, a summer camp for children with cancer that she attended as a teen.
She's still finalizing her postgraduation plans, but eventually, says Danisewicz, "I want to combine my love for psychology and my passion for athletics by becoming a sports psychologist."
"So much of athletics and fitness is mental, and I think that's a piece that is too often overlooked. Finishing a triathlon or running your first 5k brings a sense of empowerment that transcends other areas of life. I experienced that feeling firsthand and truly believe in its power to change lives. That's why I want to work with people who are trying to lose weight — by using fitness as a form of empowerment and helping them work through the mental roadblocks that are preventing them from getting healthy."
Before discovering triathlon, says Danisewicz, "I'd never done anything in the adaptive sports community and I didn't have any friends with disabilities, and now most of them have disabilities. Training and competing in triathlons has given me such confidence, and that's carried over to every aspect of my life. Triathlon is such an empowering thing that, when you do it, you realize you can do a lot of other things that may seem hard too."
The week after her first triathlon, for example, Danisewicz was in a local triathlon store getting work done on her bike and chatting with one of the sales associates. "Almost out of the blue, I asked if they were hiring," she says. "The sales person brought over the manager, and he hired me the next day. Before doing a triathlon, I never would have had the confidence to ask somebody straight up if they would hire me. But I guess I just realized that if I have the courage to run a triathlon, surely I have the courage to go after a job."
Both Stockwell and Schindler describe Danisewicz as a gifted athlete with a bright future. "Hailey has the motivation, the talent and the drive, so it'll be exciting to see where she'll be in the next few years," Stockwell says. "I'm so proud of her."