Greta Maerkle Sims and Ron Sims, co-chairs for the 55-year reunion.
Ready to Rock
Story Tools
Share this story
All alumni are invited to Homecoming and Reunion Weekend, Oct. 4–6, 2013. Registration for Reunion 2013 opens in July.
Tell us what you think. E-mail comments or questions to the editors at letters@northwestern.edu.
Ever wonder about those strange designations we use throughout Northwestern to identify alumni of the various schools of the University? See the complete list.
Find Us on Social Media
Northwestern invites new classes to the fold for Reunion 2013.
Ever since their first Northwestern reunion, members of the class of 1958 have never been shy about marching to a new beat. In 1963, months before the Beatles' landmark appearance on the Ed Sullivan Show, rock 'n' roll was still somewhat of a mystery to many of the revelers attending the class's five-year celebration. Yet the reunion committee decided the time was right to see what all the fuss was about, so they booked a rock band for their party at the venerable Rush Street establishment Riccardo's.
The experience proved to be educational, to say the least. "The band was so loud you could hardly hear yourself think," recalls Ron Sims (C58) with a laugh. "But it was an introduction to the genre for us. People were saying, 'Wow, what is that?' "
This fall the class of 1958 will be breaking new ground again during Reunion 2013, Oct. 4–6, though this time earplugs will not be necessary. Traditionally Northwestern has welcomed back classes celebrating their fifth through 50th reunions. This year marks the first time that 55th, 60th and first-year reunion classes will gather for separate parties as well.
If history is any indicator, the class of 1958 should be up to the task. Sims, who is co-chairing the reunion along with his wife, Greta Maerkle Sims (WCAS58), says their past several reunions have drawn more than 200 celebrants each. He added that Northwestern's growing reputation has also inspired more of his classmates to want to return.
"There's some curiosity and excitement out there," says Ron, who lives in Evanston. "A lot of things are happening at Northwestern right now with the building projects, the research and student life. I think people would like to get caught up."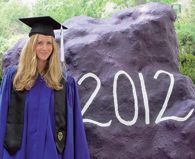 Getting acquainted with campus won't be quite the same draw for the first-time celebrants from the class of 2012, who will assemble for a party in downtown Chicago Oct. 4. But reunion co-chair Karina Gerstenschlager (WCAS12) doesn't think it will be any trouble to rally the class to return a mere 15 months after Commencement.
"I feel ready to go back already — I miss Chicago," she says. "A lot of people in our class have been very successful going out into the real world, whether it's a job or moving on to graduate school. Because of that, I think a lot of us are excited about staying connected with Northwestern."
Gerstenschlager is a good example of that success, and she credits her Northwestern experience for helping make it possible. A study abroad experience in Barcelona, Spain, after her freshman year got her interested in art history (her eventual major) and stoked her love for fashion. After her junior year, University Career Services helped her secure an internship with the clothing brand Abercrombie & Fitch. And in February she moved to Columbus, Ohio, to begin a career in merchandising at the company's home office.
"I had so many amazing experiences, and I learned so much both in the classroom and from my extracurricular experiences, so I wanted to give back," Gerstenschlager says. "Donating to your class gift is an important way to show you care, but I saw being a co-chair for the reunion as another way I could help."
That same dedication has been evident in the class of 1958's reunion leadership from the very start. In fact, Greta Sims proudly notes that their reunion committee includes many of the same alumni who helped plan the rock show 50 years ago.
A true Northwestern couple, the Sims' romance began during a chance meeting on their way to a fraternity party. After Northwestern Ron worked on John F. Kennedy's 1960 presidential campaign before working in advertising for 30 years. A board member of the Alumnae of Northwestern University, Greta has taken a volunteer leadership role for Northwestern programs such as the Community Council for International Students and the CatBackers, a women's group supporting Northwestern athletics.
"Northwestern has a much higher profile than it did when we went there," Ron says. "And I feel our education has become a lot more important because of that. It sounds like they're doing things right, so it's easy to be good to Northwestern and help out through our reunion."