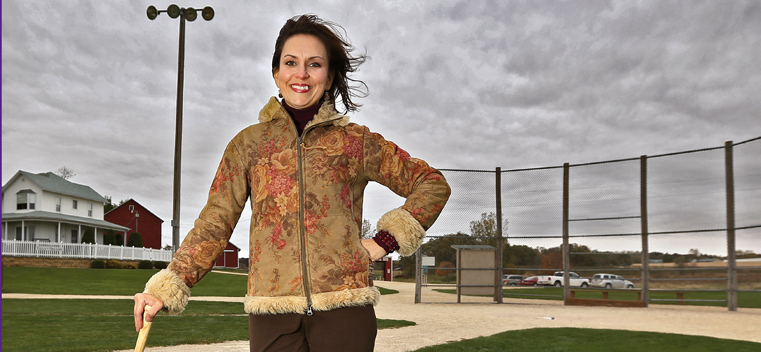 Photo by Dave Kettering/The Telegraph Herald in Dubuque, Iowa
Denise Miarecki Stillman: Baseball Heaven
Story Tools
Share this story
Tell us what you think. E-mail comments or questions to the editors at letters@northwestern.edu.
Ever wonder about those strange designations we use throughout Northwestern to identify alumni of the various schools of the University? See the complete list.
Find Us on Social Media
It all started with a game of catch. In July 2010 the husband and son of Denise Miarecki Stillman (KSM99) traveled to Dyersville, Iowa, to visit the Field of Dreams movie site. Her husband, Mike, and their then–9-year-old son threw the ball around on the famous corn-encircled diamond. That night Mike learned that the site, which included 193 acres of land, was for sale. Mike mentioned it to Denise over dinner, and she had the big idea: buy the property and build a large-scale youth travel baseball and softball complex. "Based on what I saw and what I knew as a baseball mom, I thought we had quite a golden nugget," says Stillman, a veteran marketer and business developer from Oak Lawn, Ill. She then founded Go the Distance Baseball, and with the help of investors including baseball Hall of Famer Wade Boggs, purchased the site in December 2012. With help from Emmy Award–nominated actor Matthew Perry and other investors, they plan to begin construction on "All-Star Ballpark Heaven" this summer and hope to open in 2014. The first phase includes team lodging and 12 ball fields designed by "The Sodfather," Roger Bossard, head groundskeeper for the Chicago White Sox at U.S. Cellular Field. The original Field of Dreams movie site will remain well preserved.