Alumni Updates
Story Tools
Share this story
Tell us what you think. E-mail comments or questions to the editors at letters@northwestern.edu.
Ever wonder about those strange designations we use throughout Northwestern to identify alumni of the various schools of the University? See the complete list.
Find Us on Social Media
Andy Dunn (WCAS00)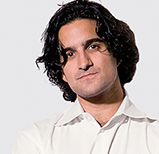 Andy Dunn, co-founder and CEO of Bonobos, launched a new kind of store — one where you can shop the online retailer offline in an intimate, service-focused way. Bonobos, the online-driven men's clothing retailer, created its Guideshop, an e-commerce showroom where customers can try on clothes in person — with help from a "guide," a style and fit expert — before placing orders that are shipped to their door within two business days. The first Guideshop opened in spring 2012 in New York, and Bonobos expanded the concept to Chicago, Boston, San Francisco and Washington, D.C., with plans for five more locations by the end of 2013. Dunn ("By the Seat of His Pants," fall 2011, and "Risky Business," fall 2008) founded Bonobos in 2007 to tap into an unrecognized market — selling great-fitting pants to men who don't like to shop. Today Bonobos has brought its signature better-fit into other categories including shirts, suits, denim, and outerwear.  The Northwestern Business Review and Northwestern Institute for Student Business Education welcomed Dunn to the Evanston campus for a presentation in April.
Michelle Edgar (BSM05, J05)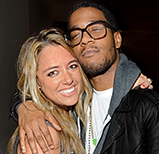 Michelle Edgar, founder of Music Unites, had a big year. Last December her New York City–based nonprofit that offers music programs to at-risk youth brought 30 high school students from the Bronx Charter School of the Arts to the studio of producer Swizz Beatz, who showed them how to record music and talked about his work as an artist and producer. In January the students performed at the Intrepid Sea, Air and Space Museum at the nonprofit's "Music-versity: Power of One" event. In April two students worked with Swizz Beatz on an episode of the Sundance Channel documentary series Dream School. Edgar recently moved to Los Angeles and joined Red Light Management, a major music management company that works with artists such as Alicia Keys, Dave Matthews and Lionel Richie, as vice president of business development. She also founded the XX Project, an invitation-only monthly speakers group for women who are leaders in their industries. Inspired by the TED talks and Northwestern's Council of One Hundred, a mentoring group for female alumni, Edgar (left with Kid Cudi) hopes the XX Project will help professional women build business connections and share their experiences in male-dominated industries. The group hosted former CNN anchor Soledad O'Brien in March, Grammy Award–winning hip-hop artist Eve in April and Pat Mitchell, president and CEO of the Paley Center for Media, in May. Upcoming speakers include Jane Rosenthal, founder of the Tribeca Film Festival. (See "Michelle Edgar: Music Unites," summer 2012).
CODY KEENAN (WCAS02)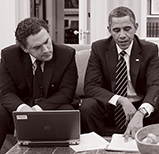 Cody Keenan ("The White House Goes Purple," summer 2010) was promoted to assistant to the president and director of speechwriting at the White House in January. As the head speechwriter for Obama, Keenan helped craft the 2013 State of the Union address. Keenan lives in Washington, D.C. Read more from Keenan in this Northwestern News Q&A.
Clinton Kelly (GJ93)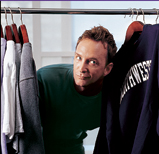 Television personality Clinton Kelly ("Clothes Force," fall 2006) recently wrapped up taping for his 10th and final season as co-host of TLC's What Not to Wear, the channel's longest-running primetime series. Kelly has also forayed into dining, decorating and entertaining as co-host of the ABC daytime program The Chew, now in its second season. In 2010 Kelly released his third book, Oh No She Didn't: The Top 100 Style Mistakes Women Make and How to Avoid Them (Gallery Books). He's working on a new book, Freaking Fabulous on a Budget. He's a national spokesman for Macy's and also designs a women's clothing line, Kelly by Clinton Kelly, for QVC. When not on the road, he lives in Litchfield, Conn., and New York City.
Matt Levatich (KSM94, GMcC94)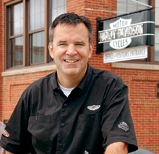 Matt Levatich ("Building a Legend," winter 2004) went to work at Harley-Davidson Motor Co. immediately after graduating from Northwestern, and he's still riding high with the iconic motorcycle maker. As president, Levatich oversees global sales, marketing, product development, engineering and manufacturing for the motorcycle, accessories, service parts and apparel businesses. He will speak at the commencement ceremony for the McCormick School of Engineering and Applied Science this year. He also presented at the seventh annual Design: Chicago event hosted at McCormick in April. His presentation focused on design leadership at Harley-Davidson, a key part of his job since becoming president and chief operating officer of the motorcycle brand in 2009. He connects with Harley-Davidson riders at motorcycle events worldwide and works to incorporate their customization passions into new designs that can take the iconic brand down the road to continued growth.