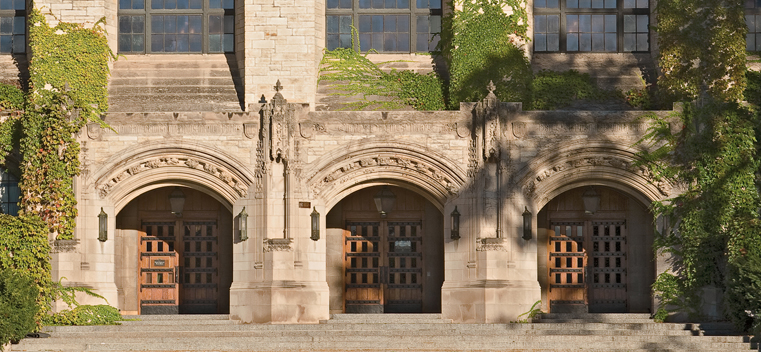 Photo by Peter Kiar.
The Doors to Knowledge
Story Tools
Share this story
Tell us what you think. E-mail comments or questions to the editors at letters@northwestern.edu.
Ever wonder about those strange designations we use throughout Northwestern to identify alumni of the various schools of the University? See the complete list.
Find Us on Social Media
Deering Library main entrance to reopen in the fall.
The Charles Deering Library, long a symbol of Northwestern's rich academic tradition, first opened its doors in 1933. This fall its main entrance will open again, more than 40 years after the doors were closed.
The west-facing main doors of Deering Library were locked after the newly constructed main library opened in 1970. While Deering is still accessible through a corridor that links the two buildings, Dean of Libraries Sarah Pritchard thinks the locked doors lead to a perception of inaccessibility. 
Pritchard, the Charles Deering McCormick University Librarian, said the reopening of the western doors will allow more convenient access to the treasures stored in Deering's quarters. The building, an Evanston landmark designed by James Gamble Rogers, is home to University Archives, the Music Library and the Charles Deering McCormick Library of Special Collections.
The project, funded in part by a gift from the family of Charles Deering, will require "more than just the turn of a key," Pritchard said. The renovations, planned to preserve the Collegiate Gothic style, will include the installation of state-of-the-art glass entrance and exit vestibules for climate control and security. Museum-quality display cases will also be positioned inside the entrance.
External renovations will include improved lighting and wheelchair ramps to allow handicap accessibility. The steps at the entrance to the library will also be expanded to operate as a stage for events on Deering Meadow.
The reopening will take place in time for Homecoming and Reunion Weekend 2012. For alumni who graduated before 1970, Deering Library was a meeting point and studying location. Pritchard hopes that, with the reopening of the Deering doors, the iconic building may once again serve as an academic crossroads for students, alumni and community members and "improve the vitality of the library intellectually and as a part of the campus community."