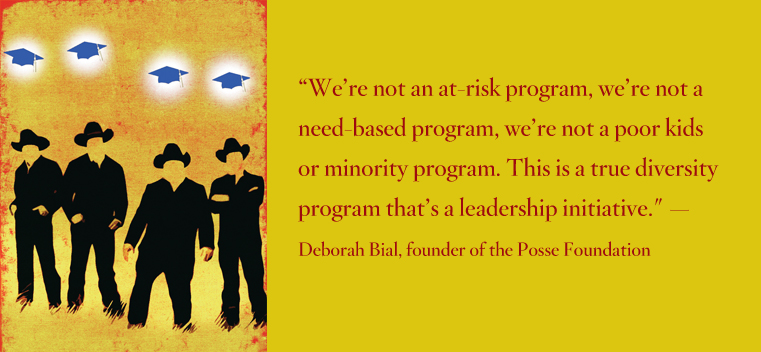 Illustration by Anthony Freda
Bring Your Posse
Story Tools
Share this story
Tell us what you think. E-mail comments or questions to the editors at letters@northwestern.edu.
Ever wonder about those strange designations we use throughout Northwestern to identify alumni of the various schools of the University? See the complete list.
Deborah Bial was working in a youth organization in New York City in 1989 when one student said, "I never would have dropped out of college if I had my posse with me."
An idea was born: assemble the most talented, energetic, academically promising public high school students from the same urban area, give them eight months to bond, and send the group off to college together — as a "posse" — with on-campus mentoring, annual retreats, career services and other supports.
Twenty-three years later, the Posse Foundation, a college access and leadership development program, has sent more than 4,000 students to college, where they have earned nearly $500 million in scholarships from the organization's partner universities and colleges (partner institutions provide four-year, full-tuition scholarships for each scholar).
In fall 2013 Northwestern will welcome its first group of scholars. (The University already partners with Posse to provide scholarships to Posse alumni who enroll in the Kellogg School of Management or the School of Law.)
Posse partner institutions typically enroll groups of 10 undergraduate scholars from one of nine urban areas. Northwestern will draw its scholars from Los Angeles.
Last year there were more than 14,000 nominations for around 600 scholarships. "It's unbelievably competitive," says Bial, "and we're finding young people who are rock stars."
Using a combination of interviews and what Posse calls the Dynamic Assessment Process, the nonprofit selects students who have academic potential and leadership skills but for one reason or another have been overlooked in the traditional college admission process.
"We're not an at-risk program, we're not a need-based program, we're not a poor kids or minority program," says Bial. "This is a true diversity program that's a leadership initiative. We're looking for young people who just might not have shown up on Northwestern's radar screen, or maybe Northwestern hasn't occurred to them, and we're trying to make that connection happen."
After Posse narrows the field to around 20 finalists (high school seniors who apply early decision to their first-choice school), the university selects at least 10 scholars to form a "posse." Northwestern will select its first class in December.
In the months leading up to the start of college, incoming Posse scholars meet weekly with their peers and trainers for workshops on team building, communication, leadership and academics. Just as important, the scholars become friends.
"It's always great knowing a group of folks prior to entering a new place," says Kabral Tesfamicael, a second-year Kellogg School student who attended Bowdoin College as a Posse scholar. "It makes the adjustment a little easier."
Tesfamicael, whose parents fled war in Eritrea, was born in Riyadh, Saudi Arabia. He later moved to the Boston area to live with an aunt and uncle. He says Posse helped him navigate an unfamiliar world. His Posse peers could appreciate and discuss his uneasiness about socioeconomic differences.
Tesfamicael used the Posse career services and alumni network to land an internship at Lehman Brothers in Jersey City, N.J., the summer after 9/11. An investment banking internship at Lehman after junior year turned into a full-time job.
Jeffrey Ubben (KSM87), a Northwestern trustee and chair of Posse's national board of directors, says the Posse alumni network — 6,000 strong by 2020 — will be "like a new type of Young Presidents' Organization, with 80 percent of alumni of color and all on leadership tracks because they graduated from schools like Northwestern."
More than 90 percent of Posse scholars graduate from college, many with honors. While on campus, nearly 80 percent of Posse scholars either founded or served as officers or presidents of campus organizations.
"They're really dynamic students," says Onis Cheathams, an associate director of admission at Northwestern, who helped select the first six Posses at Middlebury College as an admission officer and served as a Posse mentor for the school's fourth Posse class. "They bring a level of energy, leadership and connectedness. And they really do have each other's backs."