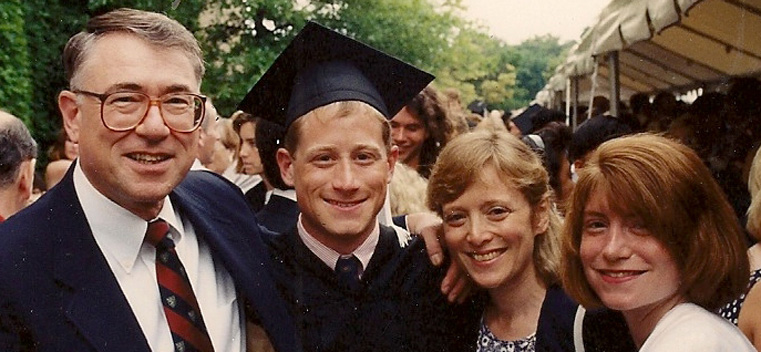 The Revsine family, from left, Larry, Dave, Barbara and Pam at Dave's Northwestern graduation in 1991.
Love Always
Story Tools
Share this story
Barbara Epstein Revsine (WCAS64) is a freelance writer. She lives in Chicago. Her husband, Lawrence Revsine (EB63, KSM65, 68), was the John and Norma Darling Distinguished Professor of Financial Accounting at the Kellogg School of Management. He taught at Northwestern from June 1971 until his death in May 2007, and the Lawrence Revsine Research Professorship in Accounting Information and Management honors his legacy. Their son is Big Ten Network host Dave Revsine (WCAS91). They also have a daughter, Pam.
Find Us on Social Media
Shortly after my husband's death a widowed friend told me that it takes three years to once again feel like yourself. Four years later, I'm still waiting. Maybe the real problem is that I just don't understand who I am and what I'm supposed to feel like. For 47 years, "me" was half of "us." In virtually every picture — and there are endless boxes and scrapbooks filled with them — Larry has his arm around me. I'm always smiling, secure in the knowledge that I was loved and that I loved him.
Larry and I believed in love at first sight — for the simple reason that we had both experienced it at virtually the same moment. I was 17, he was 18, and we both had summer jobs at a local day camp in a suburb just north of Chicago. I hadn't actually started college, so I was a junior counselor. He, on the other hand, was a senior counselor, since he was transferring to Northwestern after spending a year at the University of Illinois at Chicago.
The first day of camp, I was assigned to be his aide, even though we were technically working with different age groups. He'd missed the previous week's training sessions because he joined the staff late after quitting his summer job as a substitute driver for a laundry on Chicago's North Side. (Navigating the city and suburbs was never Larry's forte. In fact, there were only two places he could reliably find: home and Northwestern University, where he earned three degrees and was a member of the faculty for 36 years.)
I don't know what our campers did that day, but there were no casualties. Larry always said the only thing he remembered about the day was trying to find out how old I was without seeming too forward. After all, it was 1960, and we were supposed to be working. My memories are similarly vague. He asked me to put the milk cartons under the tree to keep them cool, and everything after that is a delightful blur. According to my son and daughter, the dialogue went something like this: "Hello, my name is Larry. Put the milk under the tree. And oh, by the way, will you marry me?"
Our first date was on Thursday, four days after we met. When Larry came to pick me up, he was wearing a white shirt and pants and a brand new Northwestern sweatshirt. It probably had the University seal on it. He always liked his Northwestern sweatshirts to have the official seal on them, just like he wanted every athletic event to include the singing of the alma mater and not just the fight song.
Larry always said he decided to marry me long before the summer ended. I, on the other hand, used to remind him that he never actually asked me to marry him; he just started talking about "us" as a permanent duo. The fact that I was going to school at the University of Illinois' main campus in the middle of the state was, in his mind, a temporary separation.
 According to his game plan, I would do well and transfer to Northwestern. Like him, I'd have to live at home, since neither of our families could afford to pay for tuition AND housing. And given the competition at Northwestern, I'd have to spend virtually all my waking hours studying. Happy at the prospect of being together, I never really thought about the downside, so I transferred. A half-century later, I still think it was the best decision I ever made.
Through all the years that followed, I considered us lucky. How many people fall in love when they're teenagers and still feel the same way 47 years later? We knew Larry had leukemia for nearly 14 years before he died. Near the end, he looked at me and said, "I have the easy part — I just die. You, on the other hand, have to keep going. That's the hard part."
Four years after his death, I'm still trying to figure out how to "keep going." One of my twin granddaughters asked recently if I missed Grandpa. Being 4, she didn't wait for an answer. "It's better," I would have told her. "I only think about him 23 hours a day, instead of 24.
Larry and I held hands on our first date, and I was holding his hand when he died. A month later, his memorial service ended with the singing of Northwestern's alma mater. I still think we were lucky.