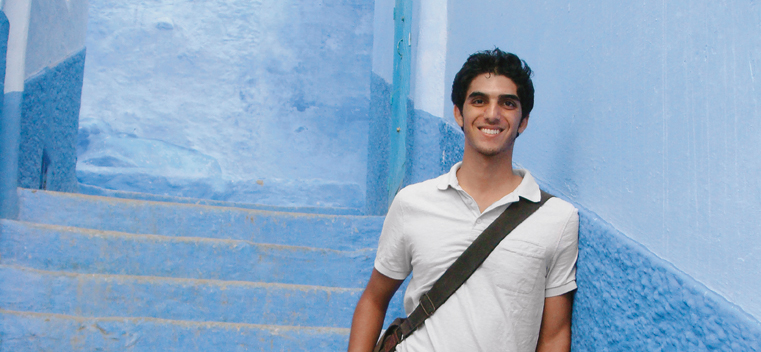 Photo by Angie Thurston
Audi "George" Bajalia
Story Tools
Share this story
Hometown:
Jacksonville, Fla. 
Major: Double major in communication studies and Mediterranean culture and history, with a minor in business institutions. I've also taken theater classes pretty much every quarter. 
Did you study abroad?  I went to Morocco on a research grant. I studied how people appropriated American and European stereotypes of Moroccan and Middle Eastern culture, as well as how the stereotypes circulate into the Moroccan realm. Take, for example, the movie Casablanca. It's pretty heavily ingrained in the American consciousness in regards to what Morocco is like. Obviously it hardly represents actual Moroccan culture — we only meet one Moroccan in the entire film — and yet many hotels, cafes and restaurants in Morocco have images from the film hanging on the walls. My research relates to how members of the arts community use these images when they "perform" Morocco. I will return to Morocco in September on a Fulbright Scholarship to continue this research.
What took you to Croatia? I went to Croatia on a study abroad program through the Buffet Center. I was really intrigued by Croatia's history of intersection between different cultures, empires and political regimes. I knew a little bit about Dubrovnik, a city on the Adriatic, and its history as a major cultural and trading hub in medieval Europe. I think I was mostly interested in seeing how these different cultures — Venetian, Ottoman, Austro-Hungarian, Yugoslav, Croatian — had intersected and progressed and what their effects looked like now.
How did you get into theater? During sophomore year at Northwestern I directed 12 Angry Men. Doing that show was a huge learning experience for me and opened my eyes to how exciting crafting a show and rehearsal process can be. I also directed the Theatre and Interpretation Center lab productions of Three Sisters and Doubt.
A defining anecdote: When I was a sophomore I developed an ad hoc major in Mediterranean culture and history. I pulled classes from a variety of disciplines, from classics to performance studies. I think this interdisciplinary way of approaching a problem speaks to how I operate.
Long-term goal? Ultimately I want to pursue both my artistic and academic interests as far as possible, directing professionally and getting a PhD in possibly sociology or performance studies. I think each one gives me a unique perspective on the other.
Favorite Northwestern tradition? Storming the field after a football game.