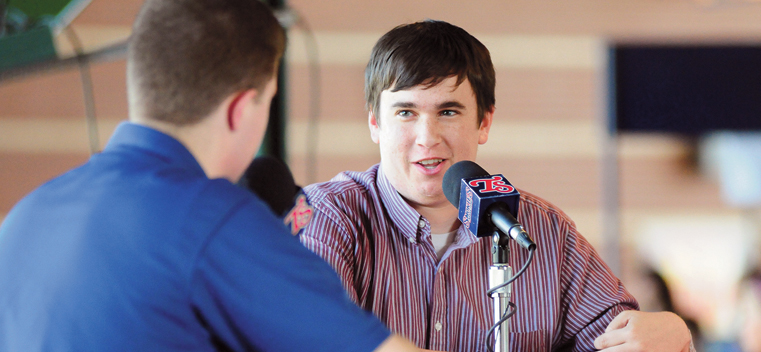 Aaron Morse
Story Tools
Share this story
Hometown:
Seattle
Major:
Broadcast journalism
Favorite hangout: You could probably find me on the fourth floor of McTrib [the McCormick Tribune Center on the Evanston campus].
Favorite Northwestern tradition: Beating Io_a in football. (We own their "w.") It's a fairly recent one.
Greatest vice: The crêpes at Norris.
Defining anecdote: When we went to Michigan State in 2007 to cover the football team for SportsNight. Northwestern's C.J. Bachér put on the greatest performance I've ever seen from a quarterback, and Northwestern won in dramatic fashion in overtime. That was when I went from being a casual fan of Northwestern to really becoming passionate about Wildcat athletics.
Best football game during your time here? The 2010 Outback Bowl was the greatest football game I've ever seen in my life. They lost, but the Outback Bowl was — bar none — the greatest football game I've ever seen in my life. It was absolutely ridiculous, and there will never be another game like it. I was on color commentary, so I had to work on keeping my mouth shut during the big plays.
Top accomplishment: Being named one of the top 20 collegiate broadcasters in the country in 2010 by the Sportscasters Talent Agency of America and being part of the SportsNight team that won a national Emmy for best newscast. 
Favorite form of social media: It absolutely has to be Twitter [follow Morse — @NU_Broadcaster]. First of all, I wouldn't have gotten my job with the Joliet Slammers without Twitter. Someone I had met through Twitter alerted me about the opening with the Slammers.
Twitter is also really fun. When you're watching a sporting event, it's is like an international sports bar because you're all talking about the game on Twitter.
What's next? I graduated in December, and now I'm the media relations coordinator for the Joliet Slammers, a new independent team in minor league baseball's Frontier League. I'm also a fill-in broadcaster.
Dream job? Play-by-play announcer for the Seattle Mariners.