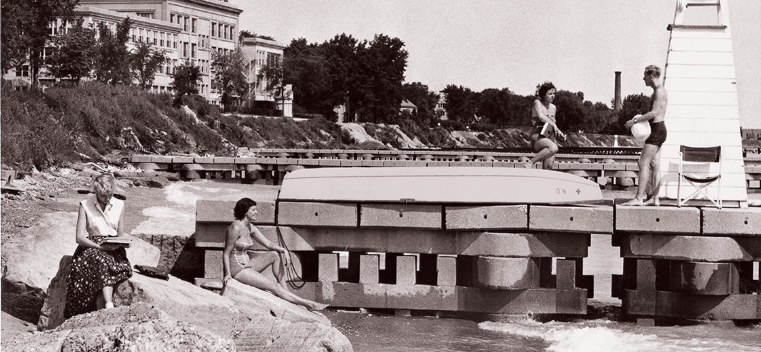 Swift Hall looms in the background as students linger on one of several piers that jutted into Lake Michigan in the 1940s. Photograph courtesy of University Archives
Then: Life's a Beach
Story Tools
Share this story
In the 1940s Northwestern students had ready access to sand and sun along Lake Michigan. Several piers jutting from the shoreline into the lake attracted sunbathers and swimmers alike. A team of Northwestern lifeguards kept those swimmers safe.
For four decades around the turn of the 20th century, the Northwestern lifesaving crew also watched the waters of Lake Michigan. The Evanston Lifesaving Station, the nation's first and only station manned by students, once stood on the beachfront near present-day Fisk Hall.
The station was built after Garrett Biblical Institute (now Garrett-Evangelical Theological Seminary) students Edward Spencer and Charles Fowler, who later served as Northwestern president, and several others rescued 30 passengers from the Milwaukee-bound Lady Elgin when the steamer collided with the Chicago-bound lumber-hauling schooner Augusta several miles off the Winnetka, Ill., shoreline in September 1860. More than 280 people died in the wreck.
As a result of the tragedy, a public outcry led the U.S. government to build lifesaving stations along the shore. In 1871 the first lifeboat was presented to the Northwestern rescue crew (whose members occasionally launched the craft for moonlight rides). The station was built in 1876. Under the watchful eye of station keeper and Swedish sea captain Lawrence O. Lawson, six to eight students manned the station between April 1 and Dec. 1 each year.
During the course of four decades, 77 Northwestern students saved more than 400 people in Lake Michigan. In one of their most noteworthy saves, the Northwestern lifesavers rescued the 18-man crew of the Calumet, a 1,500-ton steam barge bound from Buffalo to Chicago with a load of coal, when it ran aground off north suburban Fort Sheridan in a fierce blizzard on Thanksgiving in 1889. The Northwestern rescuers towed a lifeboat through the snow by land, then rowed 600 yards offshore three times to save the entire crew. The heroes received the Gold Lifesaving Medal from the U.S. Congress.
Northwestern students manned the station until 1916, when the U.S. Coast Guard took over operations. It later moved the station to Wilmette Harbor in 1931, and the University bought the building for $20. It was torn down in 1954.