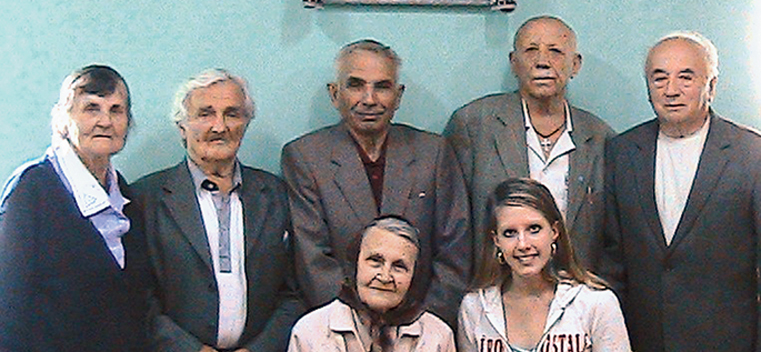 Jackie Burns, seated on right, in Karaganda in 2009 with Ukrainians who were arrested and sent to labor camps in Kazakhstan.
Remembering the Gulag
Story Tools
Share this story
Growing up in Kazakhstan, Jackie Burns had long heard whispered stories about life in the forced labor camps in the former Soviet Union. Burns, the daughter of American missionaries, grew up in Almaty, the business center and former capital in southeast Kazakhstan, after moving to the Central Asian nation in 1993 when she was just 3 years old.
When Burns returned to the United States to attend Northwestern, she realized very few people knew of the Gulag, the penal labor system in the Soviet Union, or what had happened there. After completing her freshman year at the Medill School of Journalism, Media, Integrated Marketing Communications, Burns decided to return to Kazakhstan to interview the survivors and tell their untold stories — stories about being tortured and beaten but also about friendships and laughter.
Burns applied for a Northwestern Undergraduate Research Grant and received funding for the project, a rare feat for a first-year student. While staying with her family, who still lives in Kazakhstan, she collected more than 40 hours of tape through interviews with 15 different survivors, including people who were deported and others who spent time in prison. "It was more emotional than I thought it would be," said Burns, who speaks fluent Russian. "There was a lot of pain that I tapped into with these interviews."
When Burns, now a junior, returned to campus in fall 2009, she spent the quarter translating and transcribing the interviews from Russian. When she realized it could work as a radio piece, Burns found a Medill professor to advise her in an independent study. Medill adjunct lecturer and radio reporter Julia McEvoy secured Burns a spot with WBEZ 91.5, Chicago's National Public Radio station, where her documentary, Remembering the Gulag, was featured last December.
The audio piece also features insights from her adviser, Northwestern history professor John Bushnell, and the voices of a number of Northwestern students from the Russian Student Association who helped her dub the interviews.
Burns hopes to turn the piece into a narrative nonfiction book by the time she graduates. "This project changed the way I think about journalism," Burns said. "I was so struck by the stories that I heard, and I became passionate about telling those stories and giving voice to those people."