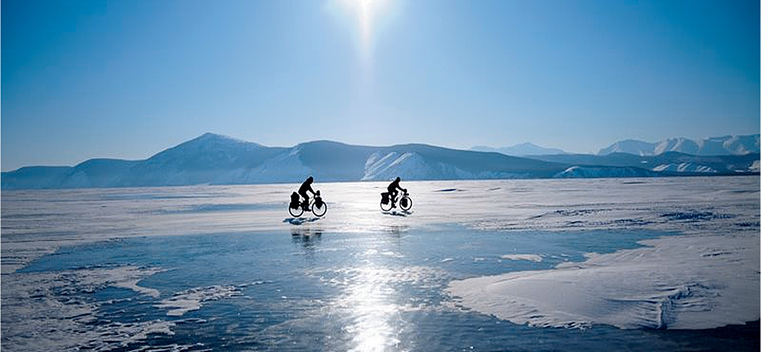 Grad student Chris Pike and four fellow riders circumnavigated Lake Baikal in Siberia. Photo by Maikey Lopera
Adventures in Siberia
Story Tools
Share this story
Enthusiasts of the Parker Brothers game Risk are familiar with Kamchatka, a peninsula in the Russian Far East that is one of the keys to winning the game. But when Northwestern grad student Chris Pike trekked into Kamchatka with a 50-pound backpack, it was no game.
"We went in spring, which was a really difficult time because the snow hadn't completely melted yet," said Pike, who led a three-week expedition on the peninsula. "The snow was deep and unconsolidated, so with every step that we took, we sunk down to our waists."
Plunge-stepping through miles of slush was just another adventure for Pike, a Russian language and literature doctoral student at Northwestern who hopes to one day teach at a university. He grew up in Seattle on the arctic adventure tales of Sir Ernest Shackleton and Fridtjof Nansen. In the early 2000s, after four years of information technology work in his hometown, Pike had saved enough money to move to Russia — but not to Moscow or St. Petersburg. He moved to Vladivostok in the Far East, where he studied in a language program for two years.
Pike also immersed himself in the wilds of Russia and beyond. In addition to his Kamchatka expedition, he spent two months on a solo trek in Mongolia's Altai Mountains and four weeks on a solo bike tour through the Gobi Desert from Irkutsk, Russia, to Beijing. And he volunteered with the Great Baikal Trail, an international nonprofit that promotes local sustainable development through low-impact ecotourism around Lake Baikal, the world's deepest and oldest freshwater lake.
Pike returned to the States in 2005, but he dreamed of another adventure in Russia — the first human-powered winter circumnavigation of the 400-mile long Lake Baikal. Last winter Pike assembled a five-man international team and returned to Siberia to bicycle around the 1,300-mile shoreline over 36 days in February and March 2010. The riders used specially equipped, single-speed, winterized mountain bikes with studded tires.
Pike and his team encountered unpredictable conditions on the lake's blue ice during the region's coldest winter in recent history. "There would be a lot of snow in some places, and then in others the ice would be broken up into sastrugi, or jumbled fractured pieces, that would be up to 3 or 4 feet high."
Pike has plans for future biking adventures in South America or Central Asia but said his next tour will be closer to home. "I see myself doing more ski touring in Yellowstone, for example," he said. "I'm not interested in doing the kind of high-risk trips that make one famous in the adventure world. I simply enjoy spending time in wilderness."