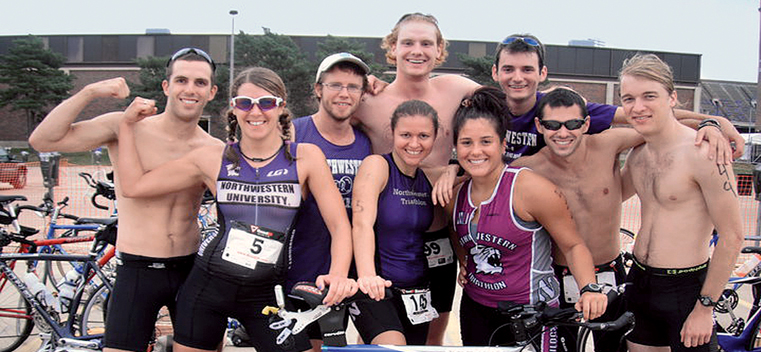 Northwestern triathletes at the 2010 Tri the Illini, a sprint distance event. From left, Mitchell Lee, Justine Shaw, Nathan Garrett, Carl Herndon, Alissa Ferry (G09), Kendyl Minor, Tyler McLean, Rich Barbera and Bradley Sherman. Courtesy of Carl Herndon
Northwestern's Ultimate Athletes
Story Tools
Share this story
Triathlon competitions may be the quintessential Northwestern sport. At least that's the assessment of Lynne Kiesling (G93), the faculty sponsor for Northwestern's Triathlon Club.
"A person who's going to be attracted to a triathlon is also going to be attracted to a place like Northwestern," said Kiesling, also an economics professor at the University. "You have to be willing to work hard and do so in a consistent way and be willing to challenge yourself. The joke among triathletes is that it's a very type-A sport."
The club, founded in 2006 by Hugo Angelmar (McC05, GMcC07) and Chris Lange (WCAS09), fluctuates between 60 and 90 members.
"One great thing about the club is that it spans the experience spectrum," said Bryan Wynn (WCAS08), the club's second president. "Some people are training for Ironmans, and some people have never really run before. It's a great combination of being social but also athletic and competitive at the same time."
Triathlon races involve swimming, biking and running components — the distances vary, depending on the race — so the team offers five official practices a week, though some members work out more. On Sundays Northwestern triathletes do a "brick," which involves back-to-back participation in a combination of any two of the three sports.
"We call it a brick because after biking and then going into a run, your legs feel heavy and leaden, like a brick," Kiesling said.
The grueling workouts bring the team closer together, helping participants forge strong friendships. For example, Wynn, now working at a Boston-based private equity firm, and Jeff Rixe (WCAS10), another former club president and a medical student at Penn State, competed in an Ironman (a 2.4-mile swim, a 112-mile bike ride and a marathon run of 26.2 miles) in Lake Placid, N.Y., last summer.
"The sport lends itself well to both competition and camaraderie," Kiesling said. "It's been a springboard for forming long-duration friendships."
The team is also finding success on the course. At the Collegiate National Championship in April, senior Mitchell Lee finished among the top 100 men, and the team finished 34th overall.