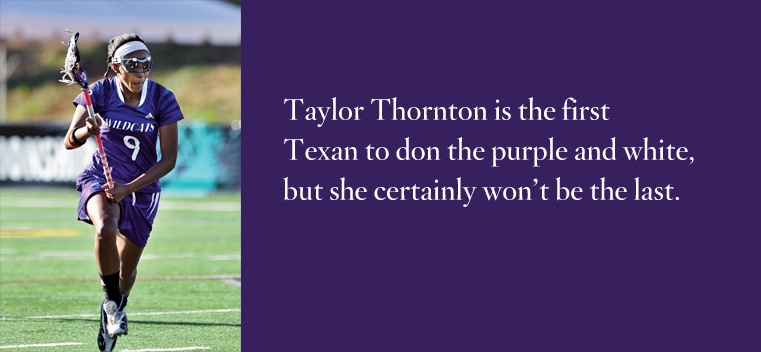 Courtesy of Athletic Communications
Lone Star Lacrosse
Story Tools
Share this story
For Northwestern, the March showdown with the College of William & Mary at Cowboys Stadium in Dallas was a great opportunity to play in one of the country's most revered sporting venues against a top-notch opponent. But for sophomore defender Taylor Thornton the game provided an unlikely homecoming.
A Dallas native, Thornton returned to the Lone Star State as the Wildcats took part in the 2011 "Dallax" weekend sponsored by womenslax.com. In front of more than 2,000 fans, the second-ranked Wildcats downed the Tribe 18-8. The next day, coach Kelly Amonte Hiller and University of Southern California coach Lindsey Munday (C06), a former Wildcat player and coach, held a coaching clinic at a local high school.
"It was an awesome weekend of lacrosse," Thornton said, "especially for kids to be able to see an actual Division I women's lacrosse game."
Thornton may not be from a lacrosse hotbed, but looking at her stats you would never know it. As a freshman she started all 22 games on defense, leading the team with 29 caused turnovers. She earned second team All-America honors.
While Thornton is the first Texan to don the purple and white, she certainly won't be the last. "Lacrosse has grown tremendously," Thornton said. "You see more goals in the backyards, sporting stores are carrying the sticks. Kids are really gravitating toward it."