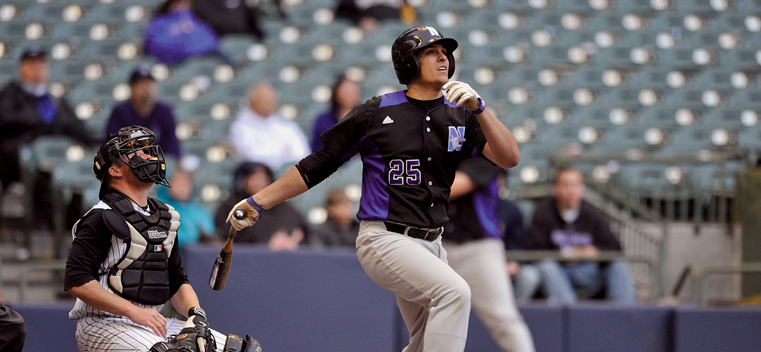 Junior Paul Snieder led the Wildcats in batting average, home runs and RBIs through the end of the regular season. He also had five saves and a 2.88 ERA as a reliever. He won Big Ten Player of the Week honors for the first time in his career in mid-May. Courtesy of Athletic Communications
A Head for the Game
Story Tools
Share this story
Northwestern baseball player Paul Snieder can do it all. Take last year's showdown with Michigan State, a late-season contest with postseason implications. Snieder started the regular season finale at first base, but in the top of the eighth inning coach Paul Stevens called Snieder — also the team's star reliever — to the mound to shut down the Spartans. Snieder pitched two scoreless innings and held the Spartans to one hit. However, there was still work to be done.
With two runners on base and Northwestern trailing 6-5, Snieder strolled to the plate in the bottom of the ninth and crushed the second pitch he saw over the right field fence. Not only did Snieder's walk-off blast solidify the Wildcats' third-place finish in the Big Ten, it also sent them to the Big Ten Tournament for the first time since 2006.
Snieder's sophomore surge at the plate was a continuation of his strong freshman campaign. As a newcomer Snieder finished second on the squad with six long balls, and last year he led the team with 76 hits, 15 doubles and a .540 slugging percentage.
Snieder's pitching prowess, however, may be more of a surprise. The mechanical engineering major from Honolulu pitched only six innings his freshman year after struggling toward the end of high school.
As a sophomore Snieder broke out of the funk, hurling 40 frames and tying a school record with 12 saves. Stevens attributes Snieder's improvement to his newfound comfort on the mound. "He finally got himself acclimated to pine trees instead of palm trees," Stevens joked. "Hitting and pitching are the same thing. It's not about you getting hitters out, it's about making pitches so that they get themselves out."
Oftentimes what's holding a player back is what's inside his head, but for Snieder it may have been what was on his head. As a freshman Snieder unleashed his locks, letting his hair grow to 10 1/2 inches before cutting it and donating it to charity. Last year Snieder shaved the Hawaiian islands into his hair. With Hawaii on his mind, he must not have had his head in the game. Coincidentally or not, Snieder's hitting declined during that time, said Stevens.
"If you look at what he hit when he had the Hawaiian islands on his head, you're not going to be very impressed," Stevens said. "It's a great state, and I love it to death, but he'll either have very long hair or very short hair without any geographic identification."