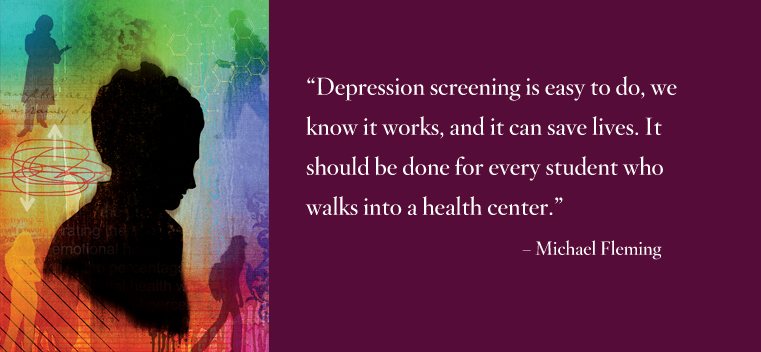 Illustration by Stephanie Dalton Cowan
Stressed Out
Story Tools
Share this story
By all accounts it's a tough time to be a college student. Limited job prospects, financial unpredictability, violence on college campuses and overall global instability add to the challenges of an already emotional time of life. "These factors have all come together and resulted in an increase in anxiety and depression among college students," says John Dunkle, executive director of Northwestern's Counseling and Psychological Services.
Northwestern is not immune. According to the most recent utilization data from CAPS, about 11 percent of the entire Northwestern student body — between 1,700 and 1,900 students per year — use its services. The number of students coming to CAPS is up 10 percent so far this year, says Dunkle, who has worked at Northwestern for 16 years, including six as executive director of CAPS. 
Recent research at Northwestern suggests that even more could be done to identify students who suffer from depression. A study by Michael Fleming, professor of family and community medicine at the Feinberg School of Medicine, found that one out of every four or five students who visits a university health center for a routine cold turns out to be depressed, but most centers miss the opportunity to identify these students because they don't screen for depression.
"Depression screening is easy to do, we know it works, and it can save lives," says Fleming. "It should be done for every student who walks into a health center.
"If one in 10 students is depressed, and a doctor sees 30 or 40 patients a day," Fleming adds, "that's three or four students per day who need help."
With new technology, screening students is simple, Fleming noted. While waiting for an appointment at the health center, the student could answer seven simple questions — a depression screening tool that could be immediately entered into his or her electronic health record. Health centers could also send a text message with a brief questionnaire before a student comes into the clinic for an appointment.
When the doctor or nurse sees the student, she then could address the sadness or depression and refer the student to a campus counseling center.
"We screen for smoking now," Fleming says. "We never did that when I started in practice. I think that's an example of how systems can change. Adding a couple depression questions or an alcohol question would work. It just needs to be seen as a priority."
Fleming, who is interim chair of family medicine at Feinberg, has talked with Dunkle and John Alexander (KSM75, FSM97, GFSM00), medical director of the Northwestern University Health Service, about how to implement a screening process for Northwestern students.
Alexander says NUHS, with more than 25,000 student visits per year, does not universally screen for depression, but a student who shows signs of depression or anxiety will be referred to CAPS.
"We have to determine how best to implement this research into our practice," says Alexander. "Should we do systematic screening, and if so, how often?"
CAPS and NUHS, which share space in the recently rehabbed Searle Hall, already collaborate on CAPS' eating concerns assessment team. Doctors from NUHS will also sit on the counseling center's new alcohol and drug assessment team.
The CAPS staff works with a liaison in every school to identify at-risk students. It also trains community assistants, as well as advisers and other faculty and staff, on signs and symptoms of depression, anxiety — the No. 1 presenting concern among Northwestern students — and suicidality.
Dunkle says it's also important for friends and family to recognize the symptoms of poor emotional health.
"One of the first signs for young adults is that usually something's going awry in their academic pursuits," he says. "You might notice the slipping grades, the student might not be going to classes. They might be sleeping a lot. They may even be talking about suicidal thoughts."
Look for signs of withdrawal, isolation, increased agitation or a lack of concentration, he says.
Dunkle says he's noticed a greater willingness on the part of Northwestern community members to intervene when they become concerned about a student's behavior.
"The positive side to all of this is that more individuals are reaching out for mental health," he says. "There's more of an openness on the part of this generation and their families to reach out for mental health services, suggesting perhaps that the stigma is decreasing a little bit."