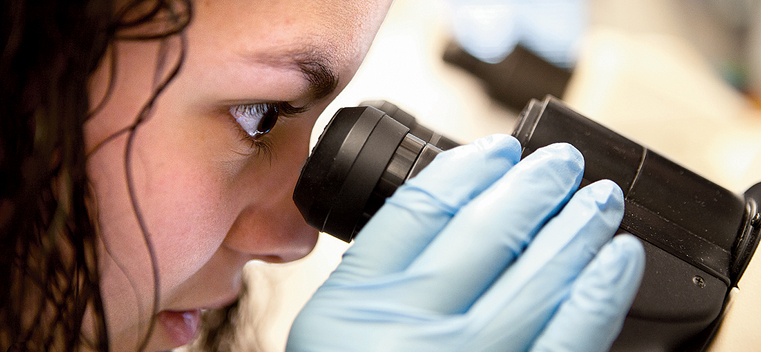 Oncofertility Saturday Academy participant Brenda Ramirez. Huge Galdones/Galdones Photography; courtesy of WHSP.
Academy Opens Students' Eyes to Science
Story Tools
Share this story
When Grace Gallegos graduated from Chicago's Young Women's Leadership Charter School (YWLCS), she applied to work in the emergency room at Saint Anthony Hospital on Chicago's West Side. The employers asked if she had any clinical experience. She admitted that she had not worked with patients, but Gallegos had participated in the two-year Oncofertility Saturday Academy, an outreach of the Feinberg School of Medicine's Institute for Women's Health Research.
"That experience led to my landing this job," said Gallegos, now an emergency medical technician who is studying at Malcolm X College to become a nurse and paramedic.
For several Saturdays in late winter each year, the academy, one of four offered by Feinberg's Women's Health Science Program for High School Girls and Beyond (WHSP), brings 32 YWLCS juniors and seniors to the Evanston and Chicago campuses to introduce them to the basic science, clinical applications and career options of oncofertility. The new scientific discipline provides fertility preservation options for patients who must undergo potentially fertility-threatening treatment for cancer.
The students start with basic science during junior year and then move into the clinical component. The juniors, for example, perform in vitro fertilization with a sea urchin and a frog. The seniors' experience includes breast and pelvic exams on simulation models from the Northwestern Center for Advanced Surgical Education.
The academy welcomed its first class in 2007 after Feinberg School of Medicine professor and Oncofertility Consortium director Teresa Woodruff (G89) met several students from YWLCS when she gave a presentation at the Economic Club of Chicago. Looking to "catalyze" the girls' interest in science, Woodruff reached out to a biology teacher at YWLCS to develop a partnership with the charter school.
"This program provides the extra experience you need to get into top schools and really focus your interests," Woodruff said. "It provides a spark for these young minds."
For the past three years, every YWLCS senior who participated in OSA went on to college. In fact, there are now 53 WHSP alumnae who have made the transition to college.
"I'm teaching a population that's made up almost entirely of minority students, and they're all female," said YWLCS science teacher Melissa Proctor Resh (WCAS99). "This program gets more minority girls into the sciences. That's a huge impact."
Women's Health Science Program plans to expand its high school–university partnership and offer enrollment in its four academies at three other schools in the Chicago area.