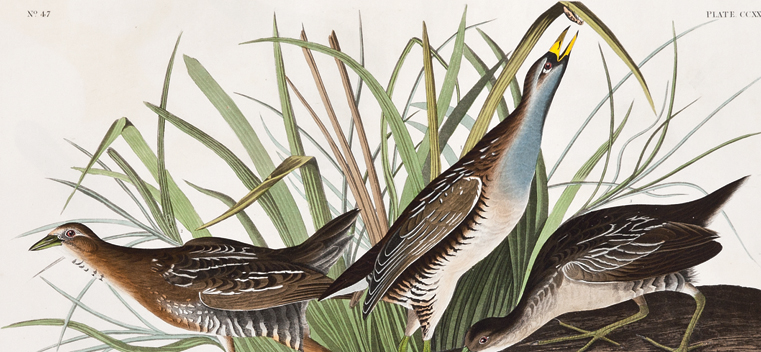 The sora rail from John James Audubon's Birds of America. The sora rail is a small waterbird that breeds in marshes throughout much of North America. The Sora Rail, Plate CCXXXIII, John James Audubon, Birds of America, Vols. I–IV, London (1827–1838); Charles Deering McCormick Library of Special Collections, Northwestern University; photographed by Gary Gantert
Collections: Birds of a Feather
Story Tools
Share this story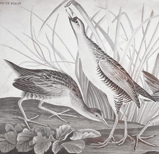 Just inside the doorway of the Northwestern University Library you will find a glass case that contains a first edition set of John James Audubon's Birds of America, one of only 120 complete sets still in existence. The curators change the plate on display once a month, so it could take you more than 36 years to view the 435 double elephant folio prints.
"The reason the prints are so large is that Audubon wanted to present all the birds at life size," explains Scott Krafft, curator of the Charles Deering McCormick Library of Special Collections. "This is why some of the really big birds, such as the flamingo, are depicted in bent, contorted postures — so they could fit the page."
If you stop by the library in person, perhaps you'll catch one of the most famous plates — the wild turkey that was Benjamin Franklin's suggestion for the national bird or the magnificent ivory-billed woodpecker whose colorful plumage reminded Audubon of an Anthony van Dyck painting. "The broad extent of its dark glossy body and tail, the large and well-defined white markings of its wings, neck, and bill, relieved by the rich carmine of the pendent crest of the male, and the brilliant yellow of its eye, have never failed to remind me of some of the boldest and noblest productions of that inimitable artist's pencil," Audubon wrote about the ivory-billed woodpecker that is thought to be extinct today (though avid birders still search for it).
Audubon's Birds of America is considered one of the most important art and natural history works ever created.
Charles Deering, a Northwestern benefactor, naturalist and art patron, gave the University the four-volume set in 1918. Deering, for whom the Charles Deering Library building was named, was an heir to the International Harvester fortune.