The Composer: Daniel Green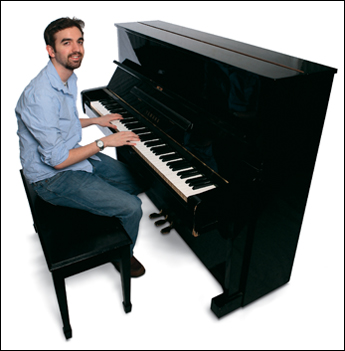 Daniel Green had dabbled in songwriting in high school, mostly composing pop songs. As he took classes at Northwestern and wrote more, he realized that he had a future in composition for musicals.
"My stuff tended to be more story-based and specific, expressing things more theatrically than pop songs," Green says. "As soon as I started writing for Waa-Mu, it just felt right."
Green wrote about five songs each year for the annual Waa-Mu Show, serving as music chair for the 2007 production as well as this year's show, Skylines. While composing, Green also sang baritone in the University Chapel Choir and conducting various productions on campus. He has also worked closely with a number of Broadway composers through the American Music Theatre Project.
Green spent most of his junior year composing songs for a full-length musical based on the book The Last Hurrah, a fictional account of early machine politics. The massive undertaking featured 20 original songs and a much larger cast than the typical student-created musical at Northwestern.
"It was a very successful Broadway-style musical with sharp satiric characters, a melodic score and great insight into the foibles of our political system. It is a show that I expect to have a future beyond its initial Northwestern outing," says David Bell, a playwright and associate professor of theater. "Daniel Green is a force to be reckoned with."
Green is currently collaborating with Bell on a musical about Robin Hood, which they plan to workshop this summer at the Marriott Theatre in Lincolnshire, Ill. He also was nominated to submit his work to the annual NEO Spotlight Concert Series, which gives young composers the chance to showcase their work off-Broadway.
After graduation Green plans to work in Chicago, writing and developing new projects before eventually making the move to New York.
— Ryan Morton (J08)
Photo by Andrew Campbell