The Sculptor: Tom Cohlmia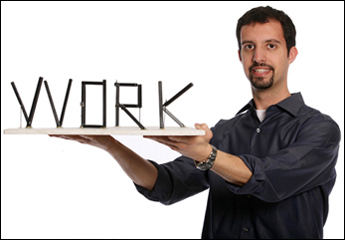 If Tom Cohlmia has his way, Northwestern campus shuttles will be running on waste vegetable oil sometime in the near future. The mechanical engineering and manufacturing and design engineering major pushed such sustainability projects as co-president of the Northwestern chapter of Engineers for a Sustainable World. (Margaret Adsit [see "The Environmentalist,"] is the other ESW co-president.)
In particular, Cohlmia promoted ESW's Waste Vegetable Oil Program, which uses a filtration system (housed in the Ford Motor Company Engineering Design Center on the Evanston campus) that can convert waste oil from campus dining halls into a fuel capable of running a diesel engine. He helped convert a diesel generator to run on vegetable oil as a proof of concept.
Eventually the project could create a locally sustainable system resulting in less pollution and decreased fuel costs for the University. Still, the most important thing to Cohlmia is that Sodexo, Northwestern's food service provider, University faculty members and the bus companies are showing real interest in the project.
During his time as co-president, ESW has also pushed rural electrification and wastewater treatment projects in Panama and a renewable energy project in Ghana.
Despite his passion for sustainability, Cohlmia's heart lies in design. Enamored with the concept since high school, he finished designing his first "perspective sculpture" the day before he left for Northwestern. His sculptures, made from fragmented pieces of wood or metal, reveal different images based on an individual's line of sight and perspective.
Cohlmia's second sculpture earned him second place in a design competition sponsored by Northwestern's Residential College Board. He decided to pursue a patent and contacted Northwestern's Technology Transfer Program. The patent is pending. (The University, through the TTP, pays for the patent filing and lawyers as well as costs to market the invention and find investors. In return the University and inventor share the profits from the patent.)
Then, mechanical engineering professor Ed Colgate commissioned Cohlmia to build Form and Function. In this, his most advanced work yet, viewers can see the words "form" or "function" from two distinct vantage points. It has been on display at the Ford Design Center since October 2005.
Cohlmia, who grew up in Wichita, Kan., and attends Northwestern with his twin brother, Matt, plans to take the summer after graduation off to travel and work on his sculptures, but then it's back to the drawing table. Cohlmia hopes to blend his two passions by designing new consumer products for sustainability-conscious companies.
"In five years I'll be doing product design and on the side building sculptures and weird gadgets in my secret machine shop basement," he predicts.
— Marcelino Benito (J10)
Photo by Andrew Campbell