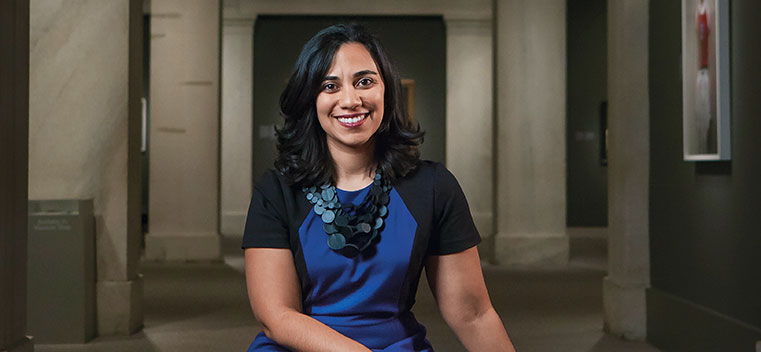 Leslie Ureña, assistant curator of photographs at the Smithsonian Institution's National Portrait Gallery. Photo by John Boal.
Portrait of an Art Curator
Story Tools
Share this story
Juan R. Palomo was a longtime columnist for the Houston Post. He lives in Houston, where he writes a blog, paints and strives to hone his skills in his new passion, poetry.
Tell us what you think. E-mail comments or questions to the editors at letters@northwestern.edu.
Find Us on Social Media
Leslie Ureña's upbringing in a vibrant Latino neighborhood of New York City infuses her passion to tell the story of America through photographs at the National Portrait Gallery.
It's been a number of years since Leslie Ureña has lived in her native New York, but she still misses life in the big city.
Ureña, assistant curator of photographs at the Smithsonian Institution's National Portrait Gallery, loves Washington, D.C., and all it has to offer, but she sometimes longs for the rumbling clatter of New York City's traffic and subway trains and the hum of different languages and accents.
She misses the music, the Dominican tunes that were a part of her life as she was growing up — what she calls "my childhood soundtrack" — that is with her, either on her sound system or simply in her mind, whenever she's relaxing, doing housework, cooking or entertaining at her apartment in the D.C. suburbs.
And she misses this also: the crowds and the ­density. "There's something about everyone running around in one direction or the other," she says. "There's a lot of energy in that."
Clearly, Ureña '03 MA, '09 PhD has a passion for urban life ("In my other life, I was probably an urban planner."), and that passion has directly influenced her career path as an art historian.
Her initial interest in art arose from her early exposure to the works at New York's Metropolitan Museum of Art and at the Cloisters — which is near her childhood Washington Heights home and to which her two older sisters would take her when they came home from Yale on weekends or breaks.
And it was a photo book focusing on the changing New York City (Nathan Silver's Lost New York), which she received as a gift in high school, that led Ureña to become captivated by urban photography. She even flirted for a while with the idea of becoming a documentary photographer, a notion she abandoned to pursue her goal of becoming an international lawyer when she followed her sisters' path to New Haven, Conn., in 1995.
But internships and work-study positions at the Met, the Guggenheim Museum and the Yale University Art Gallery, along with her art history coursework, rekindled Ureña's interest in art, and she eventually forgot about law school. At YUAG she worked in a curatorial department, an experience she credits with influencing her decision to pursue a career as a curator.
"You want to find works that tell a compelling story, that make ­people ask more questions." — Leslie Ureña
Her interest remained the constantly changing urban landscape. Her undergraduate thesis, for instance, focused on how the architecture of Toledo, Spain, changed depending on who was occupying the buildings — Christians, Muslims or Jews.
"We see that kind of change going on all the time — buildings are altered depending on who is using them — and to me that topic was really compelling," she says.
At Northwestern, where she earned a master of arts and doctorate in the Department of Art History, she abandoned her initial plans to focus on 19th-century French painting when she realized photography — and urban photography in ­particular — was what kept beckoning her, and she found herself writing more papers on topics involving urban photography. She also discovered "that I wanted to move to an American topic," she says.
For her dissertation, Ureña focused on Lewis Hine and the photography of immigration and race in the early quarter of the 20th century. Hine is famous for his compelling images of immigrants at Ellis Island, of child labor and of New York construction workers. His work has been described as "social photography," in that he used photographs for social criticism.
As a daughter of immigrants, Ureña was intrigued by the immigration issue, but also by the way Hine's photos were used by both sides of the debate. "There was this kind of darker side in the way some of his photos were being used in competing publications," she says. "I was trying to show how anti- and pro-immigrant forces were looking at the same photos yet using them in their publications for their own purposes, how they could be interpreted differently and wielded in different ways."
Ureña, 39, is fluent in English, Spanish and French and speaks some Italian, German and Mandarin. Growing up, however, the language surrounding her was the Spanish spoken by her taxi-driver father, her stay-at-home mother, her sisters and other Dominican immigrants who lived in the neighborhood. She also spoke Spanish in the Dominican Republic, where she lived for three years as a child and where she often spent summers, visiting her grandparents during her early years. "It was definitely a Spanish-only-at-home upbringing," she recalls.
The New York neighborhood where she grew up, however, is changing, she says, "because everything is changing in New York." Like so many places today, mom-and-pop stores there are being replaced by chain stores. Yet, she says, "it was and remains a very vibrant Dominican neighborhood."
She still remembers setting up a blackboard at home and telling her parents, "I'm going to teach you English."
Her desire to expose her parents to her world continues to this day. Ureña loves to take them to art museums, but in recent years she has learned to be open to their likes.
She recalls taking her mother to see a Picasso exhibit at the Museum of Modern Art in New York City only to have her mother decide she wanted to see the museum's architecture and design galleries instead.
"I realized I was pitching the wrong products to her," she laughs. "Had I just asked her what she wanted to see, as opposed to telling her that we had to look at Picasso because Picasso is important, it would have been a lot easier."
After receiving her bachelor of arts in the history of art from Yale in 1999, Ureña moved between the world of private art galleries and museums and academia. She has taught at George Washington University in Washington, D.C., and at two Taiwanese universities, as well as at MOMA. (Ureña earned her master of arts from Northwestern in 2003 and her doctorate in 2009.)
Before becoming a curatorial research associate at the National Gallery of Art in Washington, D.C., in 2014, she worked there as a research assistant. She's also worked, interned or held fellowships at MOMA, the Guggenheim, Yale University Art Gallery, the Walters Art Museum, the Smithsonian American Art Museum and the Dallas Museum of Art.
Ureña says she liked teaching but that she'd rather be in a museum, where she can enjoy writing, research and other elements of academia while being surrounded by art.
"There is something about being there, with an [art] object, that is very exciting," she explains. "Every day you are in a museum you come in contact with an object that you want to take a closer look at."
To her, museums are very much places where teaching takes place. "I went to ­graduate school so I could do that," she says. "I may not be behind a lectern, but this is one way of teaching."
Because she's been on the job for a little more than a year, she says, "everything is still something of a little surprise, and I find myself saying, 'Oh, look at that! Look at that!'"
She particularly enjoys private moments with the art. "Walking through a gallery when nobody else is around is really fun," she says, "or opening a box and finding something new that excites you."
Ureña has fond memories of her time at Northwestern, particularly of her classmates who also became friends.
Graduate school gives students the opportunity to spend a lot of time with others with the same interests, she says. "I really value keeping in touch with the friends I made there, whom I also consider colleagues. It's wonderful to have friends you can still have lively discussions about art history with, even after you part." 
At Northwestern, David Van Zanten, Mary Jane Crowe Professor in Art and Art History, remembers Ureña as "quietly fabulous," as well as warm and effective — with the emphasis on the last adjective.
He recalls one of her presentations about the photography of transportation in which she used film footage from the late 19th century that was taken with a camera attached to a streetcar as it crossed the Brooklyn Bridge.
"I had never seen a presentation so rich in what she was able to gather and present," Van Zanten says. "It was so smoothly narrated and so strikingly culminated."
Ann Shumard, the National Portrait Gallery's senior curator of photographs, says Ureña's personality makes her "a good fit" in an institution with a small staff that requires collaboration across departments.
"There are a lot of very smart people out there, but not all are good colleagues," she says. "Leslie has people skills in abundance. She's warm, approachable and has a tremendous work ethic."
Shumard says that shortly after Ureña was hired as assistant curator, another staff member went on maternity leave, and Ureña eagerly took on her responsibilities while mastering her own job. 
She says Ureña's background and language skills are an asset as the museum seeks to better connect to the country's changing demographics. For the museum to remain relevant, Shumard says, "we have to be able to reach out."
So, what does a curator do? This is how Ureña describes her job: "We are people who take care of art objects. We are the stewards of collections at museums. We also help in interpreting them by coming up with the descriptions. We work on researching them to be able to provide a fuller story of those objects for visitors."
That definition is expanded a bit at the Portrait Gallery, she says. "Because we're a museum of biography, we're people-focused. We spend as much time on the ­people who are in paintings or photographs as we do on the artworks." The first step, she says, is finding out who the people depicted in the portraits are, and "how that person's life tells the story of a moment in American history."
Ureña says the Gallery wants visitors to encounter "something that might be a surprise."
She points to a 1960s portrait of a young Geraldo Rivera in a casual pose in his law office, before he became a crusading TV journalist, at a time when he gained ­notoriety for representing the Young Lords, a Puerto Rican activist group. Many viewers are surprised that Rivera had a different earlier life.
Such reactions of surprise ("He was a lawyer? He represented the Young Lords? Who were they?") are something the museum strives for, she says.
"You want to find works that tell a compelling story," she explains, "that make ­people ask more questions."
Established by Congress in 1962, the National Portrait Gallery is a relatively new museum within the Smithsonian system. It shares an ornate building (the original home of the U.S. Patent Office) with the Smithsonian American Art Museum, several blocks from the National Mall, where most Smithsonian museums are located.
Nevertheless, it is a popular art venue, consistently drawing huge crowds, largely because of its nature. As a portrait gallery, it features photographs, paintings, drawings, prints, videos and sculptures of famous Americans, historical and contemporary.
It houses, for example, the largest and only complete collection of portraits of U.S. presidents outside the White House, but it also features portraits of more recent nonpoliticians, such as Marc Anthony, Fred Rogers (from television's Mister Rogers' Neighborhood), Barbara Walters and Associate Supreme Court Justice Sonia Sotomayor.
Ureña demurs when asked to speak about some of her acquisitions or ­proposed exhibition projects, explaining that the process almost by definition requires confidentiality. (See "Leslie Ureña: What I Look for when Considering a Photograph for Acquisition.")
While her acquisitions are not yet on display, Ureña is responsible for a number of the labels that offer viewers descriptions of the portraits. (The labels are now posted in Spanish and English.)
The acquisition process is ongoing and requires a lot of legwork. Some of the pieces the gallery acquires are donated, but much of the art is discovered, researched and acquired through a process that involves visiting art fairs and galleries and listening to suggestions from colleagues.
For photographs, studying the actual print is vital because a digitized version on a computer monitor simply cannot show what a photo actually looks like, says Ureña.
Displaying photography involves the additional challenge of making certain the work won't be damaged by how — and for how long — it's displayed. Black-and-white photos, for instance, require different lighting conditions than do color photos, and most photos cannot withstand the rigors of perpetual exposure to light. Sooner or later they have to return to the safety of a storage box. If not, they'd vanish, Ureña explains.
But not all of the work of a curator involves displaying art. Ureña says she devotes a lot of time to giving tours, keeping the museum's website up to date and blogging about some of the photos or photographers. She also devotes considerable time to answering questions from researchers about photos on display or in storage, as well as to conceptualizing and organizing exhibitions. 
Additionally, Ureña says, the staff takes seriously its mission of "telling the story of the United States" by striving to diversify with works of and by people from all backgrounds across the country.
"As we strive to continue to tell the story (of America), we're always asking ourselves what's missing," she explains. And that applies not only to works that hang on the museum's walls but other works, including performances by artists of all backgrounds in the museum's magnificent glass-covered courtyard — a tourist attraction on its own — and other spaces such as its Great Hall (where Lincoln held his second inaugural ball).
As much as Ureña loves photography and owns a few works that she's purchased over the years, she is not a collector.
"One of my sisters once told me that I can either take care of the [art] works or I can collect them," she says. "I decided I will take care of them."