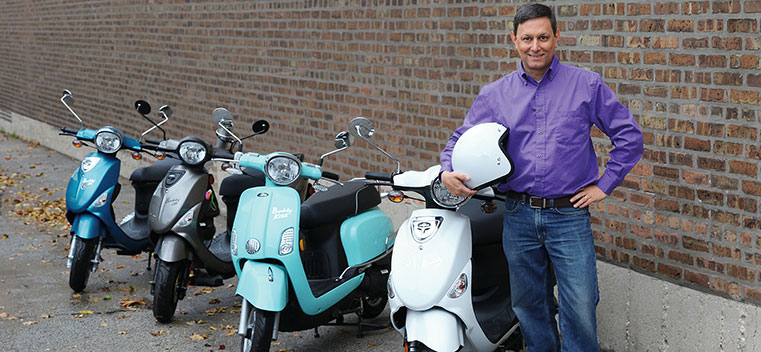 Jim Kolbe, co-founder of Chicago-based Genuine Scooters. Photo by Scooterworks Chicago.
Jim Kolbe: A Genuine Love for Scooters
Story Tools
Share this story
Anne Stein is an Evanston-based journalist.
Tell us what you think. E-mail comments or questions to the editors at letters@northwestern.edu.
Find Us on Social Media
Engineering alum drives upstart scooter maker to No. 3 in the U.S. market.
What do reality star Kim Kardashian, actor Tom Hanks and Cleveland Indians manager Terry Francona have in common? They've all ridden scooters made by Genuine Scooters, the Chicago-based scooter company co-founded by Jim Kolbe '82.
"Hanks went into our Marina del Rey dealership, bought a Buddy 150 and loved it," says Kolbe."He could tool around town, and no one recognized him with the helmet." Several Genuine scooters were featured in Hanks' 2011 scooter-centric movie, Larry Crowne. "We went to the premiere and did a scooter ride through Hollywood," says Kolbe, who, along with 50 or so Los Angeles–area scooter fans and police escorts, went on a scooter ride from Marina del Rey to a mile or so from the theater premiere, where they were joined by Hanks on a scooter. The group rode another mile to the theater, where Hanks rode up the red carpet.
It's not celebrity buzz, however, that drew the Wilmette, Ill., resident and multigeneration Northwestern alumnus to the scooter business. (He met his wife Katie Conover Kolbe '84 at Northwestern, and their son Reed graduated in 2016. Katie's parents also met at the University.) It was the desire for a career change, from Fortune 500 executive to entrepreneur, that brought him to the Genuine helm.
An electrical engineering major at Northwestern, Kolbe comes from a family of tech experts: His dad was an engineer, his grandfather was a tool and die specialist, and his great-grandfather was the town blacksmith in Kolbe's hometown, Muskegon, Mich.
After graduation, Kolbe started in technology consulting at Booz Allen Hamilton in Washington, D.C., then moved to a similar position with Lockheed in Denver. "I wanted that broader business perspective, rather than doing engineering design work," he explains. In 1986 he and Katie returned to Chicago, where Kolbe worked his way up in network engineering at United Stationers.
After 16 years as an information technology executive and officer at the Fortune 500 company, Kolbe, then a senior vice president, yearned for a change. "I wanted to do something on a small scale — I needed a new playground to learn in and a new routine." He took nine months off to think and spend time with family. In 2002 he invested in Scooterworks USA, which sells scooter parts, and launched the Genuine Scooter vehicle business.
"I grew up riding minibikes and small dirt bikes, so I understood small two-wheeled riding," says Kolbe, Genuine's co-founder. "And I liked the idea of a niche business." With just seven employees at the beginning, Kolbe did everything from handwrite payroll checks to technical evaluations of products.
Genuine's first model was the Stella. Originally made in India by the factory that once manufactured Vespas, it's nearly identical to a vintage Vespa but with modifications to meet U.S. specifications, including higher-quality brakes and better grips and mirrors. Genuine also made cosmetic changes, adding chrome accents and flashy colors like tangerine and mint green.
Today the Buddy is Genuine's most popular line, and along with Stella and other models, is sold at 240 dealers nationwide (Genuine is ranked No. 3 in U.S. scooter sales — ahead of Vespa and behind Yamaha and Honda).
Kolbe would love scooters to become as popular here as they are in other countries and notes that the average car gets around 26 miles per gallon, while a scooter averages 100 miles per gallon — and emits a third of the carbon because it uses gas more efficiently. They're easy to maneuver, and parking is incredibly easy, says Kolbe, who rides a scooter to Northwestern football games.
"There's a good future for the transportation segment of scooters in the U.S., and I think you'll see us catching No. 2 Yamaha soon," says Kolbe.