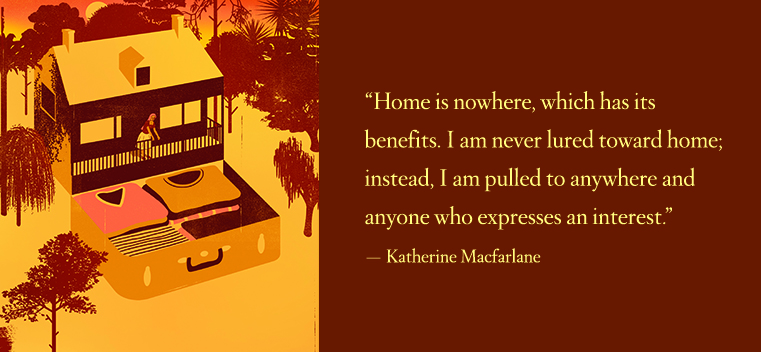 Illustration by Francesco Bongiorni.
On the Move
Story Tools
Share this story
Katherine Macfarlane (WCAS02) is a teaching fellow and assistant professor of professional practice at Louisiana State University's Paul M. Hebert Law Center in Baton Rouge, La.
Northwestern magazine is looking for Northwestern alumni who would like to write for Purple Prose, the 800-word personal essay that appears in every issue. If you feel strongly about something going on in your life or your work-a-day world and you love to write, then please send your submission to us.
Tell us what you think. E-mail comments or questions to the editors at letters@northwestern.edu.
Ever wonder about those strange designations we use throughout Northwestern to identify alumni of the various schools of the University? See the complete list.
Find Us on Social Media
Alumna learns that home can be everywhere and nowhere.
I have moved once again — to Baton Rouge, La. — my fourth city in six years. I am always ready to move — for better work, better weather and even better bagels. I've never put down roots. I was born in Toronto, but before I turned 2, my family moved to Arlington Heights, Ill., and right after I turned 5, to Rome. Six years later my mother, my sisters and I moved into my grandparents' home in Kalamazoo, Mich., this time because my parents divorced.
Ask me where I'm from, and I'll give you a long, garbled answer that includes "I went to high school in Michigan … but my dad lives in Italy, which is where I went to elementary school … and I went to college in Evanston." My husband, Tom, answers this same question without pause. He's from Clifton Park, N.Y. His parents' home has a bedroom known as "Tommy's room" that is full of Tom-related memorabilia, including an old music stand. When I left for college, my mother threw away whatever possessions I left behind, from my pink prom dress to the notes a secret admirer sent me. She knew I wasn't coming back.
"Where's home?" is a question I hate even more than "Where are you from?" Home is nowhere, which has its benefits. I am never lured toward home; instead, I am pulled to anywhere and anyone who expresses an interest. After college I followed my boyfriend, Mike, to Los Angeles. Mike dumped me on day three, but I hung on for four years, graduating from law school along the way. Next, I took a one-year job in Phoenix with a federal judge. I returned to Los Angeles for a similar job, one step up the federal court hierarchy. Three years later, restless again, I asked Tom, my then-fiancé, if we could move to New York. We told people that we'd be closer to Tom's family, only three hours away upstate. Really we just wanted to give New York a shot.
Wherever you go, there you are, and when we were ready to get married, there we were in Brooklyn, in a Catholic church on Court Street. Six months ago, three years after our move out East, I was offered a teaching job in Baton Rouge. "Let's do it," said Tom. 
So that they won't forget me, I send chirpy emails about my new life to the friends I've left behind. I tell them about the fig tree out back. I romanticize the worn-down wooden bench that reminds me of the worn-down wooden picnic table in my grandparents' backyard. I describe the lizards skittering across the driveway, streaks of neon green. I sit on our porch and watch the orange sherbet sunset.
The more you fall in love with a city, the harder it is to leave, so though I paint a pretty picture, I try to stay detached. But at twilight the heat breaks, and the smell of the grass and the water and the trees, heavy with their pink and white flowers, overwhelms me. I turn the car AC off and roll the window down. I stick my hand out, and the air makes my skin cool. I am 16 again, driving for the first time, tasting freedom as it pours in through the open car window. I hate to say it, but I love it here already.
Still, it's been a hard move. I wake up and face walls I don't recognize, unsure if I'm still dreaming. At night I cannot find the hallway light switch, and my hand moves up and down textures I'm feeling for the first time.
I have to drive to get around, and it's been a while since I was behind the wheel. I am hesitant in the face of my greatest challenge: making a left turn. Am I facing north when I pull out of my driveway? I have no idea, so I shrug my shoulders and hope for the best. This leads me down roads that dead end at a lake. When I return to civilization, I inevitably choose the parking place farthest from the entrance to the building I'm looking for.
And, man, I miss my friends. A restaurant table of laughing, smiling patrons makes my chest tighten. "Look who it is," they cry when unexpected friends walk in. I turn too, as though I might know them, as though they might know me.
I hate this new-city-motion-sickness. I want to figure this place out, just like I did all the places that came before. Instead, I'm swearing sotto voce every time I pass a weeping willow, because the South really is as magical as I'd imagined. I can feel the flora and the fauna casting a spell that will keep me here forever.
Am I ready for a home though? I don't know. Home could be just another move away.