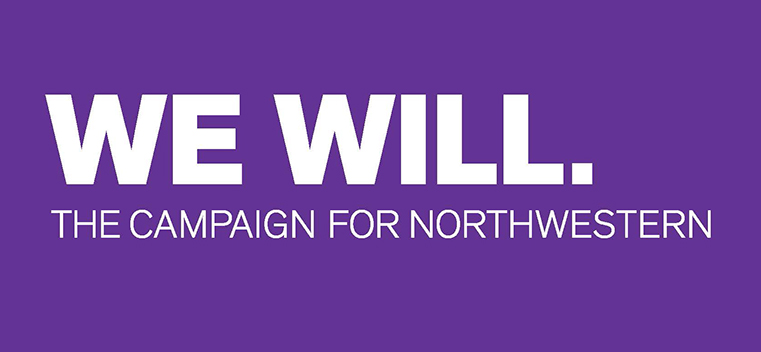 "We Will" Campaign Addresses Society's Challenges and Prepares Global Leaders
Story Tools
Share this story
Related Articles
Tell us what you think. E-mail comments or questions to the editors at letters@northwestern.edu.
Ever wonder about those strange designations we use throughout Northwestern to identify alumni of the various schools of the University? See the complete list.
Find Us on Social Media
Dear Northwestern alumni, parents and friends,
Five years ago, the Northwestern community began a planning process to chart a course for the University's future. The outcome was Northwestern Will, the most comprehensive and ambitious strategic plan in our history. This transformative plan, which we launched in 2011, will further advance Northwestern and solidify our position among the world's leading research universities.
The plan builds on our core attributes: our entrepreneurial and pioneering spirit; unconventional collaborations; an energetic community of students, scholars and alumni; a dual passion for research and teaching; and an intense desire to put ideas into practice for the greater good. We now have an opportunity to use these considerable strengths to help solve some of the world's most pressing challenges and educate the extraordinary leaders of the future.
This grand endeavor requires a significant investment in resources across the University — in research support, facilities, student scholarships and fellowships, faculty recruitment and retention and program support. To realize the bold aspirations set forth in the strategic plan, we publicly launched We Will. The Campaign for Northwestern, a University-wide fundraising effort, on March 14.
This multiyear initiative has two goals:
I. Broaden the University's base of annual support among alumni, parents and friends — as reflected by 140,995 donors making a gift during the Campaign, including 40,000 donors in the NU Loyal giving society.
II. Raise $3.75 billion in philanthropic investments across all of our schools and units to fund the strategic plan initiatives.
The Campaign is a resounding call to invest in our remarkable University and make it possible for future generations of Northwestern students and faculty to excel and discover, to imagine and pioneer, to lead and transform. We will unite as a community to create an even better Northwestern and amplify our impact on the world.
Participation by all alumni, parents and friends will be vital to our success. Please join me in supporting Northwestern by making a gift every year of the Campaign. Each gift, of any amount, makes a difference and moves us closer to achieving our goals.
Together, we will marshal our considerable talents and enable an even brighter future for Northwestern.
With gratitude,
Morton Schapiro
President and Professor