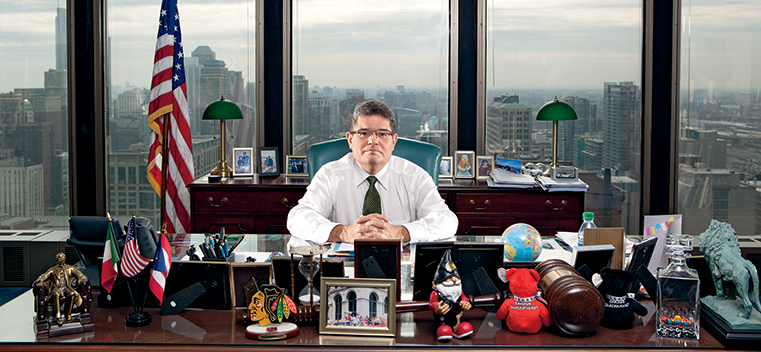 Judge Ruben Castillo in his office at the Dirksen Federal Building in Chicago. Photo by John Sundlof.
Holding Court
Story Tools
Share this story
Curtis Lawrence (GJ82) is a freelance writer in Chicago. He is an associate professor of journalism at Columbia College Chicago.
Tell us what you think. E-mail comments or questions to the editors at letters@northwestern.edu.
Ever wonder about those strange designations we use throughout Northwestern to identify alumni of the various schools of the University? See the complete list.
Find Us on Social Media
Ruben Castillo, new chief judge of the Northern District of Illinois, is both tough and fair-minded.
On a Friday afternoon in November, a woman waits in the courtroom on the 25th floor of the Dirksen Federal Building in downtown Chicago. She is neatly dressed in a smart dark green jacket, black slacks and heels. At first glance, one probably wouldn't peg the woman as a nearly 60-year-old grandmother. Nor would it seem likely that the woman had pleaded guilty to being a drug mule in a high-stakes heroin operation. In the moments to come, her fate would be decided by Chief Judge Ruben Castillo, the man who last summer ascended to the highest judgeship in the third largest federal court system in the country.
Castillo (L79) enters the courtroom and sits below the seal for the Illinois Northern District federal court. Two green banker's lamps sit on either side of him, and he shifts from looking at papers on his desk to resting his chin on his hands while listening intently.
Prosecutors paint the grandmother of 13, Ester Carrera, as an experienced drug smuggler who was caught transporting heroin with a street value of more than $1 million. Carrera, prosecutors argue, is no stranger to drug trafficking. Years back, they tell the judge, she was caught at the U.S.–Mexico border with more than $40,000 stuffed in her bra. Carrera's attorneys argue that instead of being a "fearsome drug dealer," their client was caught up in her desire to help her son, also a defendant in the case.
The prosecution asks that Carrera be sentenced to as long as seven years in prison. The defense requests much less than the minimum of five years and 10 months recommended in the sentencing guidelines. In a tearful appeal, Carrera pleads for the court's mercy, saying that she is the sole caretaker for her 2-year-old grandson while her daughter works.
After patiently listening, Castillo breaks his silence.
"I feel like I'm sentencing two people who are all twisted into one," Castillo tells the grandmother.
Castillo, 59, who recently became a grandfather, is sympathetic to Carrera's role as the family matriarch but sternly reminds her that the drugs she was trafficking, "unfortunately, they end up in the veins of pretty much young minority people."
He sentences Carrera to just over three years in prison, less than the sentencing guidelines called for, and recommends a prison close to Chicago. Her sentence would not start until January so she could spend Thanksgiving and Christmas with her family.
Will the Real Judge Castillo Please Stand Up?
J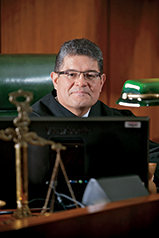 ust as Castillo saw two conflicted personas before him, Carrera and her attorneys could have wondered which Ruben Castillo would deliver her sentence. Would it be the lawyer who took a pay cut to work for the legal rights of immigrants, the son of a Mexican immigrant father and Puerto Rican mother who overcame the odds? Or would it be the former no-nonsense prosecutor who was so detested by drug dealers that one is serving a life sentence for threatening Castillo's life?
Back in his chambers, the judge, who spent 11 years on the U.S. Sentencing Commission, explains some of the complexities of sentencing.
"There were tough elements in there," Castillo says, explaining how he tried to find the person in between the doting grandmother and the woman caught on a government wire talking in the vernacular of a streetwise dealer.
"When I sentence somebody, it's important for there to be a human-to-human connection," he says. "It shouldn't be just a judge looking at a book … and then sort of being the machine that spews out a number that comes from Washington, D.C., or anyone else."
The case of Ester Carrera provides just a glimpse of the man who for the next seven years will greatly impact the direction of the U.S. District Court from his post on the 25th floor of the Dirksen Federal Building.
His office has a view of the Metropolitan Correctional Center, the federal jail. A look around his chambers reveals clues to Castillo's background: the walls filled with family photos; the miniature Puerto Rican and Mexican flags on his desk; and the Chicago Blackhawks memorabilia, including photos of Castillo and his fellow federal judges with the Stanley Cup in 2013. There are also letters of appreciation from the U.S. Drug Enforcement Agency and recognition for his work helping to establish a hockey league in West Town, the Chicago community where he grew up.
When Castillo was sworn in as chief judge for the Northern District of Illinois on July 2, 2013, it was a day full of emotions. It was the birthday of his mother, Carmen, who died in 2005. His father, Ruben Sr., was there to help him into his robe; his wife, Sylvia, held the Bible while he took the oath; and his children, Roberto and Francisca, and granddaughter Agnes Carmen were there for moral support. Also present were his predecessor, U.S. District Judge James Holderman, and the district's other judges, many of whom have worked with Castillo since he was appointed to the federal bench by President Bill Clinton in 1994, becoming the district's first Latino judge.
"Ruben's calm, non-egocentric demeanor, collegiality, mature judgment, ability to make tough decisions and be both decisive and caring … all bode well for his successful stewardship of the Northern District of Illinois," U.S. District Judge Marvin Aspen told those at the ceremony. Aspen (McC56, L58) served as the district's chief judge from 1995 to 2002.
A new chief judge is appointed every seven years based on seniority. But Castillo's journey to the 25th floor of the Dirksen building is much more than an accident of a man being in the right place at the right time.
Those who have followed Castillo's career are familiar with the story of the young Castillo falling in love with law as a student at Chicago's Gordon Technical High School and posting a sign on his bedroom door proclaiming himself el abogado, the lawyer. He continued on to Loyola University, where he majored in political science. In 1979 he earned his law degree from Northwestern University School of Law, where he has taught trial advocacy since 1989.
Northwestern law professor Leonard S. Rubinowitz describes Castillo as a student who was "extremely conscientious, responsible and very hardworking." As a chief judge, Castillo has mastered the "tricky balance" of being a lawyer and advocate when representing his district court while maintaining balance on the bench, Rubinowitz adds.
On the day of Castillo's installation as chief judge, his son, Roberto, characterized his father as someone who "always managed to balance his career and his family life.
"He's passed up opportunities to make more money so that he could spend more time with us," Roberto told the packed courtroom.
In a recent interview, Castillo's wife, Sylvia Mojica-Castillo, described her husband as someone who has to keep active. She's noticed this trait since the couple met while Castillo was in law school and she was a caseworker for the Illinois Department of Children and Family Services.
Even with his commitment to family, Castillo has managed to pack a lot into his professional life.
In addition to his tenure as an assistant U.S. attorney (1984–88), Castillo worked for two of the city's most prestigious law firms — Kirkland & Ellis and Jenner & Block. He also served as the director and regional counsel of the Chicago office for the Mexican American Legal Defense and Educational Fund, better known as MALDEF.
In 1999 President Clinton appointed Castillo to the U.S. Sentencing Commission. While Castillo, who served as the commission's vice chair, advocated for stiffer sentences for political corruption and firearm trafficking, he also pushed for addressing the severe sentences for crack cocaine that often affect minorities.
"I thought that mandatory, uniform drug sentencing had led the country down the wrong path," Castillo says. "It had led to a failure of the so-called drug war."
Immense Responsibility
In a recent luncheon at the City Club of Chicago, Castillo recounted his first day as chief judge.
"The reality is I went to sleep on June 30 and I woke up on July 1 as the chief judge," Castillo said. He walked through his routine that first morning, which included his coffee, adjusting a backyard swing for his granddaughter and, to the surprise of many, reading his horoscope.
"It said, 'Orders come from on high. New evidence threatens old assumptions. In a confrontation or conflict of interest, angels guide your actions.' "           
As a devout Catholic, he relates to the idea of divine guidance, but at the same time, he winces at the enormity of the challenge before him, a challenge he calls the "new normal" of federal government.
That new normal includes a vernacular of sequestration, paycheck uncertainty, furloughs and, of course, the ever-impending government shutdown. The sequestration, he explains, has resulted in a 20 percent cut in the district court's budget since 2010.
"We need to get the word out to Congress that they need to come up with a budget that is fair to the court system," Castillo told his audience at the City Club luncheon.
He made headlines last summer when he called for Congress to keep its hands off of the federal courts as part of the sequestration process. "I saw a chance to say something on behalf of what I thought were a lot of hardworking federal employees who were really being mistreated."
Castillo wears his role as an advocate well and is not afraid of being on the front line. He says he developed a thick skin from his days as a hockey goalie when he was a young man and from his tenure as an advocate for the immigrant rights group MALDEF.
At the City Club luncheon, Castillo reminded attendees that he grew up less than a mile from the Maggiano's restaurant on Clark Street and Grand Avenue, where the group regularly holds events.
It's clear that his West Town roots and the values of his parents play a big part in his life. He's committed to giving everyone a fair shake, no matter what his or her background or heritage.
One of his priorities has been to continue the court's efforts to expand the number of African American and Latino jurors. 
"Right off the bat, one of the things I changed was our effort to have a more diverse jury system," Castillo says. He explains that the new jury system has moved from exclusively seeking jurors from voter registration rolls to including driver license records, a more inclusive pool. And now, when a jury summons is returned as undeliverable, a new summons will be sent to that same zip code. "So, for example, if that zip code is from Englewood … you can't just replace that [person] with someone from Wilmette. It's just not going to be the same," he explains.
In July, about a month after he took the oath as chief judge, Castillo made headlines by ordering the U.S. attorney's office to produce records relating to the role of race in federal drug stings where all the suspects were African American or Latino. The case involved the use of a phony drug house set up by law enforcement that resulted in arrests, even where no drug stashes existed.
Defense attorneys had presented findings showing that since 2011, 19 African American and seven Latino defendants, but no whites, were charged in similar cases. Castillo wrote in his order that the defendants "have made a strong showing of potential bias." The case, including responses to Castillo's order, is pending.
Recently Castillo presided over a graduation ceremony for the James B. Moran Second Chance Re-Entry Program for those trying to overcome drug and alcohol addiction while on probation. Participants meet with a team of judges, probation workers and federal public defenders twice a month for a frank, no-holds-barred check-in.
Castillo credits the program with keeping him grounded. He is often humbled by the commitment of the men and women to overcome their addictions and lead a productive life. "I learn as much as anyone else at the table," Castillo says.
And those watching Castillo are increasingly learning more about him. "We're getting to know his philosophy much more now that he's chief judge," says U.S. District Judge Joan Gottschall, one of the founders of the re-entry program. "This shows where his heart is."