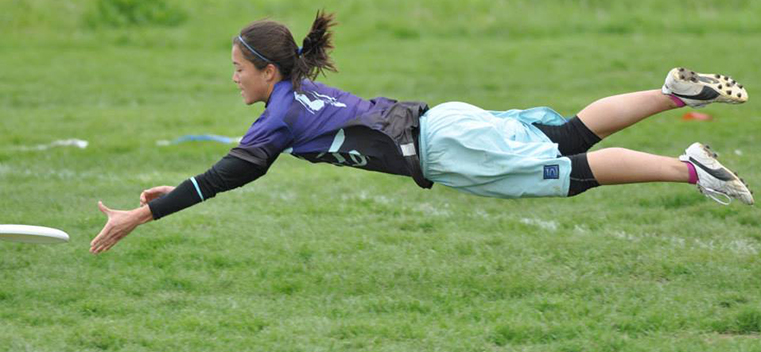 Liên Hoffman (McC12, GMcC13) stretches out to make a diving catch. Photo by Gabriel Peal (McC13).
Team Ultimate
Story Tools
Share this story
Tell us what you think. E-mail comments or questions to the editors at letters@northwestern.edu.
Ever wonder about those strange designations we use throughout Northwestern to identify alumni of the various schools of the University? See the complete list.
Find Us on Social Media
One of the top teams in the nation, Northwestern's women's Ultimate Frisbee squad works hard and plays hard.
If you ask Merriam-Webster, "gung ho" means extremely excited and enthusiastic.
At Northwestern, it means women's club Ultimate Frisbee.
Founded at Northwestern in 1998 after Erin Fitch Foster (WCAS00) and Kate Mazurek (WCAS01) split from the men's squad, GungHo has become a top team in the Great Lakes region, with seven national tournament appearances in its history, including a ninth-place finish at the USA Ultimate College Championships in 2013.
The 34-member organization fields two teams — an "A" squad that competes nationally and a developmental "B" group added in 2010 due to an increase in interest.
"It's growing," says senior co-captain Ellen McGrath. "We have people who have never played a team sport before, and it's very accessible because most of your teammates didn't play before college either. Nobody really knows anything at the beginning."
Coached by volunteer Laura Moore, a Northwestern graduate student, GungHo practices year-round — on Lakeside Field in the fall and spring and inside Trienens Hall in the winter. The team plays in tournaments across the Midwest in the fall. The main season, in the spring, includes conference competition and regional action against foes from the University of Michigan and the University of Illinois.
"We definitely have a work-hard mentality," says McGrath. "We have high expectations for what goes on at practice. Each year we sit down and talk about our team goals, whether we want to play for fun or want to try for nationals. In all the time I've been here, we've chosen to be very competitive."
McGrath and co-captains Alex Chudler, a senior, and junior Jenny Li work to continue the team's inclusive atmosphere.
"It's a big social community. We do a lot together — we have the team house, we travel, we work out — and I think that's a big part of why people stick around," says Chudler, who lives in the off-campus team house with four GungHo teammates and six players from the men's Ultimate team. "These women have really been my family here at Northwestern."