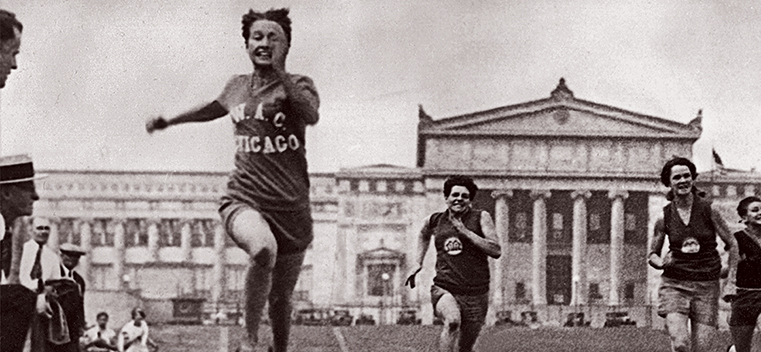 Courtesy of the Robinson Schwartz family
Remembering the First Lady of Track
Story Tools
Share this story
Tell us what you think. E-mail comments or questions to the editors at letters@northwestern.edu.
Ever wonder about those strange designations we use throughout Northwestern to identify alumni of the various schools of the University? See the complete list.
Find Us on Social Media
The 1928 Olympic Games in Amsterdam marked the first time women were allowed to compete in marquee track events and other big time athletics — a milestone for the world of sport as well as women's rights.
The first female gold medalist in the 100-meter dash was 16-year-old American Betty "Babe" Robinson Schwartz. Running in just her fourth organized meet, the Riverdale, Ill., native broke the world record with a mark of 12.2 seconds. After the Games, Robinson Schwartz took courses at a local junior college and then enrolled at Northwestern, where she joined the rifle team in addition to running track. Her future seemed limitless.
But in June 1931 Robinson Schwartz (SESP34) nearly died when she was a passenger in her cousin's plane that crashed shortly after takeoff in Harvey, Ill. She left the hospital 11 weeks later in a wheelchair, uncertain if she would ever walk again.
Robinson Schwartz's focus never wavered, even after missing the 1932 Games. She rehabbed ferociously, working with Northwestern's athletic training staff to regain her strength and stamina. In a miraculous return, Robinson Schwartz took home gold with the relay team at the infamous 1936 Berlin Olympics, despite being unable to assume a sprinter's crouch.
Journalist Joe Gergen's The First Lady of Olympic Track, due in April from Northwestern University Press, brings the track legend's story to light.