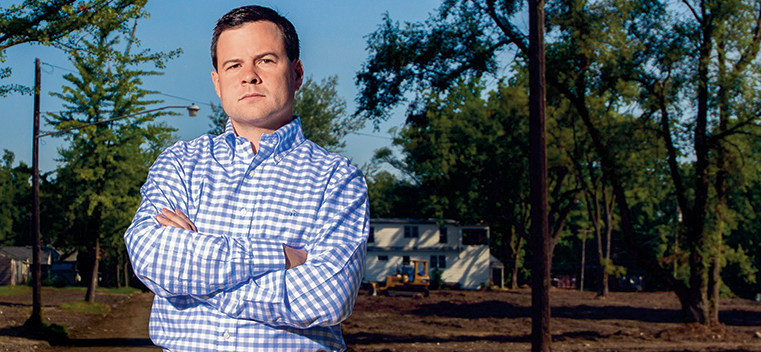 © Chris Arace/Forbes Collection/Corbis Outline
Bill Pulte: Blight Buster
Story Tools
Share this story
Tell us what you think. E-mail comments or questions to the editors at letters@northwestern.edu.
Ever wonder about those strange designations we use throughout Northwestern to identify alumni of the various schools of the University? See the complete list.
Bill Pulte, who comes from a family of homebuilders, thinks he's found a solution to the abandoned home crisis in Detroit. Pulte (J10), CEO of Michigan-based Pulte Capital Partners, an investment group that buys and runs housing materials companies, partnered with then-mayor Dave Bing and Michigan Gov. Rick Snyder to form the Detroit Blight Authority to clean up some of the estimated 80,000 vacant residential structures in the city. In February 2013 the DBA cleared 218 lots, demolishing abandoned buildings and cleaning up garbage in a 10-block area near Detroit's Eastern Market, the largest such effort in the city's history. Last summer the nonprofit cleared more than 400 lots across 14 blocks in the city's crime-stricken Brightmoor area, where workers collected 50 tons of garbage — including hundreds of tires and several boats — and discovered a body. "We've done it with a concentrated, scaled effort and reduced the criminal aspects of some of Detroit's worst communities in a matter of weeks," Pulte, who lives in suburban Detroit, says of the DBA's two privately funded demonstration projects. "What started a year ago as an idea has become a citywide regional movement." Pulte has applied the principles of large-scale homebuilding to blight destruction, cutting the cost by roughly 50 percent per structure compared with city-run demolitions. He is now seeking government funding to continue the work, which he estimates could take five to 10 years to complete.