Mailbox
Mad Men Days
While I was proud to be quoted in Terry Stephan's cover story, "You've Come a Long Way, Baby" [winter 2012], I did not write that Virginia Slims theme line. Pat Martin, one of the greatest copywriters ever, created the "You've Come a Long Way, Baby" campaign. Martin wrote the line in the late '60s, and I was lucky enough to continue the campaign into print after cigarettes got kicked off TV.
Mark Goldstein (J69, GJ70)
Naples, Fla.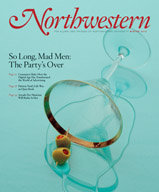 My father, Vernon Fryburger, ran the advertising program at Northwestern for 35 years, and I am tired of it being trashed. In the cover story in the winter 2012 issue my father's program was referred to by professor emeritus Don Schultz as a small, agency-oriented program and a "problem" that needed to be solved. Unfortunately, my father is deceased, but I would like to set the record straight.
As a student myself who went through the program in 1978, I can say that it was state of the art for its time and set the tone for future evolution. It produced plenty of successful advertising professionals, some of whom are quoted in the article. Yes, the ad industry has changed dramatically, but the basic principles have not. Products must still address consumer needs, and the consumer has always been at the center of the message. What is different is how we communicate and seek information in the digital age.
After my father's retirement, the catchy phrase "Integrated Marketing Communications" was used to rename the department. The program was rebranded as if a whole new concept had been invented, but advertising is still a major part of the marketing mix.
Not all graduates from my father's day were steered toward the ad agency world. I worked on the client side, coordinating advertising for military recruiting, and was well prepared.
My father was not self-promoting. His interest was in helping his students, and they have not forgotten him. The greatest testament to the success of my father's program is his students' success, and it is sad that no one at Northwestern acknowledges this.
Candace Fryburger (WCAS76, GJ78)
Lake Bluff, Ill.
Leigh Thompson On Track
I enjoyed reading the inspirational story about Kellogg professor Leigh Thompson's athletic journey ["On Track," winter 2012]. For Thompson to find out at age 47 that she had the potential to become a world-class athlete and then go on to become that, after already having achieved academic success as an educator, shows that you never know when your next challenge — and, hopefully, achievement — will happen to you.
And probably even more impressive is that she has pulled off the seemingly impossible task of being able to train at a high level and at the same time teach and raise three teenagers.
I gave the article to my spin and group exercise instructors at my health club for them to share her uplifting story with their classes.
So, bravo to Leigh Thompson for giving me that push to strive a little harder in my next spin workout. I hope I also have the opportunity to succeed at something I never knew I could do.
Barb Urbanek Spigner (C76)
Vernon Hills, Ill.
Patricia Neal's Reel Life
Elizabeth Canning Blackwell's story on Patricia Neal ["Reel Life," winter 2012] was excellent. I was a classmate of Neal's and a Pi Beta Phi sorority sister as well. She was pledge chair and "hell week" leader. Even then she was a great actress, and we pledges were really frightened of her. However, we all survived hell week and came to love her. Pat left school after just two years for New York, so it was amazing what she was able to accomplish at Northwestern in so short a time.
Elizabeth "Betty" Williams Wulff (C48)
Hinsdale, Ill.
Clean Up DePue
The feature article on the contamination in DePue, Ill., ["Cleanup Crew," Our World, winter 2012, page 6] caught my attention. Identifying a problem is one thing; coming up with a solution is another.
I would like to see some action against ExxonMobil and CBS Corp., owners of the contaminated Superfund site.
I don't think little DePue has any clout over the Illinois Environmental Protection Agency — the agency hasn't done much since the industrial plants were shut down in 1991. Exxon cleaned up the Valdez oil spill in Alaska, and BP cleaned up some of the oil spill in the Gulf. President Obama [H06] is from Illinois — maybe he can get a solution started.
James L. Dority (WCAS51)
Santa Ana, Calif.
Sound Advice
The story titled "The Evolution of Audiology" [Collections, winter 2012, page 8] jogged my memory back to 1951, when I was an undergraduate and part-time technician in the audiology laboratory. I was hired by professor Raymond Carhart (GC34, 36) to do acoustic setups for experiments run by graduate students. My only qualifications were that I was an aspiring electrical engineer and a tinkerer with radio and electronics prior to entering college. I set up instrumentation, acoustic sources and control panels between the sound-isolated acoustic chamber and control rooms. Most of the experiments related to speech recognition in the noisy environments encountered in aircraft cockpits.
I would like to know if the same acoustic sound chamber is still in use? It was a major marvel of sound-isolation construction, detached from the building and foundation by rubber isolation.
Eight years later, after being released from active duty with the U.S. Navy, I became employed at Cook Research Laboratories, a division of Cook Electric Co. in Morton Grove. Ill. My first project was investigating the acoustic characteristics of controlled underwater explosions. Our laboratory was a very large outdoor tank, in which we submerged the instrumentation and sound source. The experimental work involved wading into the tank to make equipment setups for each test. Needless to say our testing time was short, limited to the warmer part of the summer season. 
I learned early on that each of our experiences are important and build up our knowledge base.
Kenneth W. Koeritz (McC54, Nav54)
Arlington, Texas
Editor' note: Don Nielson, director of clinical education and translational research at Northwestern's Audiology Clinic, responded: "The building we are now in, the Frances Searle Building, was built in 1972. While we may not have the same sound rooms that you used, the clinic has four sound suites that are sound-isolated acoustic chambers with control rooms that might look very familiar to you. There are also a number of sound isolation chambers used for research housed in our department and two anechoic chambers, one very large and the other more modestly sized.
"We also still depend on people with electrical engineering knowledge to help move the profession forward. We hope to have a new clinic building in a few years and expand our clinical sound-isolated suites to six."
TUNED IN
I thoroughly enjoyed the "Fine-Tuning the Brain" article [Lab Notes, winter 2012, page 11]. I like to skim through the alumni magazines that my dad, Jeremy S. Garrett (WCAS81),receives, and this story caught my eye. I am a high school senior and, more important, a trombone player and neuroscience enthusiast, so I found the story fascinating! Although I enjoyed learning the results of the study, I found the application of the findings more interesting. I loved that Dr. Nina Kraus (GC80) uses neuroscience to enhance the lives of others, while she seeks to integrate musical education as part of the required learning experience, especially during formative years.
Matt Garrett
Clayton, Mo.
PASSINGS
Like many theater majors from the early '70s, I was jolted by the death notice announcing the passing of Father Gerald Walling (GC73, 84) [Passings, winter 2012, page 63]. In my last University theater production, in which Father Gerry played the title role in The Magistrate, I was fortunate to play his secretary, Wormington. I know my classmates agree with me when I say I have never worked with a more generous actor or a kinder gentleman. Father Gerry was everything you imagine a priest to be — passionate, intelligent, tolerant and gifted, with a great sense of humor. The door to his parish house, his liquor cabinet and his heart were always open. He was a great friend, colleague, classmate and mentor to so many of us, and he is sorely missed.
Brian Reich (C75)
Nyack, NY
HARSH JUDGMENT
Two letter writers [Feedback, winter 2012] were highly critical of the author of an article about a religious snake handler ["Test of Faith," fall 2012] and of Northwestern for publishing the article. One referred to the author as being "more attuned to journalistic standards than her own moral compass."
This was a harsh judgment, one with which I don't fully agree. First, even if symptoms of envenomation appear, it is not for certain that a snakebite victim will die. Second, I see an issue of the greater benefit. The journalist did not cause the preacher's situation but allowed nature to run its course. Our society opts to not legislate against many kinds of risky behavior, choosing instead to educate citizens of the risks and to allow individuals to decide for themselves. Had the preacher survived because the journalist intervened, his followers and others could easily have interpreted this as evidence that he survived because of his faith. We can't know how many will now be dissuaded from this religious practice by this unfortunate example.
Biologists are familiar with not intervening when the predator-prey relationship plays out. A preyed-upon animal is not the moral equivalent of a human life, but the principle is the same. Or, how about the aspect of the law that frees an accused where there has been police or prosecutorial misconduct, even in cases where it is all but adjudged in court that the accused was guilty. Again, an exception to the execution of justice for the (adjudged) greater benefit of maintaining rules by which prosecutions are carried out.
The example of the journalist committing suicide after failing to help a starving child reach food in order to take her photo raises more issues than it illuminated. How does the writer know what drove the journalist to take his or her own life? Moreover, it requires but a minute to take a photo, after which the journalist could have intervened. There is more to this example than we've been told.
James Riehle (G69, 70)
Hayden Lake, Idaho
Northwestern welcomes signed letters of 250 words or less from readers. We reserve the right to edit all letters. Please send correspondence to the
Editor
Northwestern
1800 Sheridan Road
Evanston, IL 60208-1800
Fax: 847-491-3040
E-mail: letters@northwestern.edu