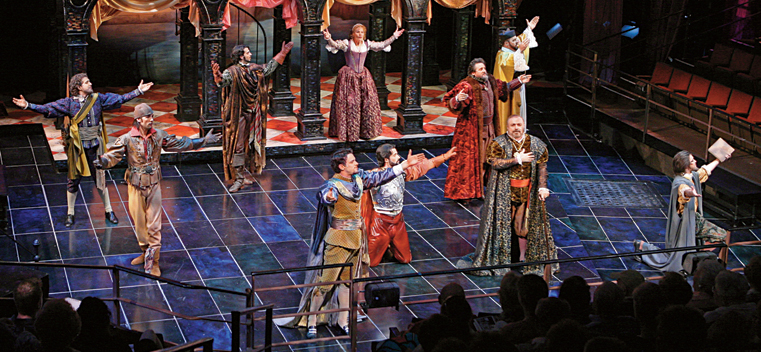 The cast of Dangerous Beauty performs during summer 2008. The show was directed by Sheryl Kaller with music by Michele Brourman, lyrics by Amanda McBroom and book by Jeannine Dominy. The cast of 11 Northwestern students and five professionals included alumna Jenny Powers (BSM03) and theater actress Hollis Resnik, center, under archway. Photo by Andrew Campbell.
Show Time
Story Tools
Share this story
Elizabeth Canning Blackwell (C90) is a freelance writer in Skokie, Ill.
Tell us what you think. E-mail comments or questions to the editors at letters@northwestern.edu.
Ever wonder about those strange designations we use throughout Northwestern to identify alumni of the various schools of the University? See the complete list.
Find Us on Social Media
The American Music Theatre Project nurtures the next generation of talent in a uniquely American art form.
What director Nathan Allen still remembers is the noise. It was July 10, 2009, the opening night of Girls vs. Boys, a musical he had helped create and write over a few packed months, starting with nothing more than the idea for a few characters. "We wanted to explore all the weird things that go on in the typical adolescent experience," says Allen, co-founder and artistic director of the House Theatre of Chicago. "The show was a venue for us to grow and learn and try things out, to create ugly characters that we love but don't like." Thanks to funding and administrative support from Northwestern's American Music Theatre Project, Allen and his co-creators were able to craft their dark, musical take on teenage angst, cast it with Northwestern students and mount a full production at the Hal and Martha Hyer Wallis Theater on the Evanston campus.
"The performances were crazy," remembers Allen. "It felt really young and kinetic, like a high-energy party." As rock music blared and audience members danced in the standing-room-only section of the theater, Allen realized he had helped create something more than a show. It had become a shared social experience.
Whether it has a punk rock or Jazz Age soundtrack, the musical is a ­quintessentially American art form, one that has produced masterpieces ranging from the 1930s screwball comedy Anything Goes to the Disney blockbuster The Lion King. But it is also a form of entertainment that must compete against big-screen films, cable television, video games and smartphone apps.
"As the economics of entertainment have shifted, musical theater has to fight harder for its audience," says theater professor Amanda Dehnert, noting that any musical that does not have a commercial tie-in to a popular movie, TV show or comic book hero is considered a risky commercial bet. Yet creating and staging new works are essential if the musical as a genre is to survive.
It was the desire to keep the American musical canon fresh and vibrant that led to the creation of Northwestern's American Music Theatre Project in 2005. The brainchild of Stuart Oken, a successful theater and film producer and former co-head of Disney Theatrical Productions, in collaboration with theater professor Dominic Missimi, AMTP was initially envisioned as a summer program that would bring professional writers, composers and directors together with students to collaborate on a new work. "We wanted to get top-flight artists to work with our students — first-stringers," says Missimi, now a professor emeritus. "We knew it would be an incredible opportunity."
AMTP now encompasses up to four shows at various stages of development each year, all chosen because they share certain qualities: a unique voice; innovative form or content; opportunities for students to be involved; and an artist or creative team with whom Northwestern's theater professors would like to have their students work.
Some shows receive full stagings at Northwestern, such as Dangerous Beauty, which later received a professional production at California's Pasadena Playhouse. Others are tweaked during workshops and readings but go on to premiere elsewhere. Triangle, for example, featuring music by Curtis Moore (BSM95) and lyrics by Thomas Mizer (C93), and inspired by the tragic 1911 fire at the Triangle Shirtwaist Factory in New York, was workshopped at Northwestern in 2011 and showcased in New York City the following year at the Festival of New Musicals sponsored by the National Alliance for Musical Theatre.
This flexibility reflects the uncertainty inherent in creating a musical: scenes and songs must be tried out, rewritten and then tried again, and it can take years for all the disparate parts to come together into a cohesive whole. "It's a long process, and frankly, it ought to be," says Broadway composer and lyricist Andrew Lippa, whose musical Asphalt Beach premiered at AMTP in 2006.
"Unlike other forms of writing, a musical is only as good as the collaboration between the lyricist, the composer, the book writer, the choreographer, the director and the producer," says theater professor and AMTP artistic director David Bell, who is also the director of Northwestern's certificate program in music theater. "We allow these artists to gather and try the material on for size. Being in an academic environment, we are afforded the time to get the job done, and that is a rare and wonderful gift."
As an example of the creative exchanges that AMTP can provide, Bell cites a musical he plans to direct that is based on the book The Forty Rules of Love by Turkish author Elif Shafak, with music written by two Turkish pop stars. Weaving together the stories of 13th-century poet Rumi, the 13th-century Sufi mystic Shams of Tabriz and the modern American woman who discovers their work, the show explores issues of spirituality, religion and the nature of love. Bell traveled to Istanbul last fall, and AMTP provided the funding for the Turkish musicians to have a workshop residency at Northwestern this March. "We can do a lot by email and Skype, but we need to find every opportunity to be in the same room together," says Bell.
"New musicals are never really done," says Dehnert, who wrote the music, lyrics and book for AMTP's most recent musical production, The Verona Project, which was staged last October (see "The Road to Verona," <Link to sidebar>). "You can't tell where a show is until you get that cross section of humanity in the room. Listening to what's working, feeling the room out — there's nothing that replaces that."
Thanks to the strong reputation of Northwestern's theater program, AMTP has been able to attract top professionals in the industry, including Michael Greif (C81), the Tony Award–nominated director of Grey Gardens, Next to Normal and the original production of Rent; Gary Griffin, who directed the Broadway production of The Color Purple; Neil Bartram and Brian Hill, who wrote The Story of My Life, which premiered on Broadway in 2009; and Hunter Bell, the Tony Award–nominated writer of [title of show], whose musical Found (co-written with Eli Bolin [C00]) will be workshopped by AMTP this May at Northwestern.
"The best part for me was the opportunity to work on a show without the glare of the spotlight," says Lippa, whose music and lyrics for The Addams Family earned him a Tony nomination for best score in 2010. "There were no reviews and no professional expectations. We just got to work."
These professional artists become valuable contacts in the theater world for Northwestern graduates, giving them a leg up in auditions and castings later on. (To cite one example that current students look to longingly, Adam Kantor [C08] was cast in the final Broadway production of Rent after working with Greif at Northwestern. See "The Broadway Star," summer 2008.)
"Students learn what is expected of them in a professional environment," says Greif, who directed In the Bubble for AMTP in 2007. "It takes an awful lot of preparation and an incredible work ethic, and the people in our cast got a taste of what that experience is like. It's a great perk that some of those relationships between artists and students continue afterward."
"Not only is the program educationally beneficial; it generates jobs, and it works both ways," says Lippa, who was offered The Addams Family commission by producer Stuart Oken while he was at Northwestern. "Students are being trained in how to get work, and they go to New York knowing someone. I need soldiers — I need assistants and cast members — and I'm grateful for the opportunity to meet these students and hire them."
But it's not just about networking. Being involved in the shaping of a show is an education in itself, one that allows actors to go beyond simply performing. "Working with new music or new text is a very specific skill," says senior Lillie Cummings, an English literature and theater major from Shorewood, Wis., who has worked on every AMTP show that has been staged during her four years at Northwestern. "You have to learn quickly, and you have to adjust to changes without getting upset. It gives you an incredible amount of opportunity, and it's made me a lot more confident."
"There's nothing more intense or rewarding than the creation of a new musical," says Bell. In the musical theater world, he notes, the vast majority of shows are revivals: "It's very rare that you get to be in the room at the creation of a show and originate a role."
Senior David Corlew, a theater major from Murfreesboro, Tenn., compares the experience of shaping a new musical to riding a roller coaster. "Working with new material lends itself to a wonderful sense of play throughout the process," he says. "One day new lines will come in that change our understanding of a character. Another day we'll have to say goodbye to a scene that we really loved. And another day some of those lines will be back again! There's something about the interaction between the actors and the changing text that makes the room feel electrically vibrant."
"AMTP has honestly been formative in the way I think about myself as a performer," says Cummings. For The Verona Project, she was not only learning lines, creating harmonies for songs and perfecting her ukulele skills, she was also challenged to find her inner rock star; one of Dehnert's commands was that the show not sound "too musical theater."
"I've been in a cappella groups, but that doesn't count!" Cummings says with a laugh. What helped her make the leap, she says, was the sense of trust that developed among the cast and crew throughout the rehearsal process. "We created an environment where something could go wrong, and it would be fine, because we knew how to fix it," she says. "Whatever choice I made on stage would be right, as long as I was having a good time."
It's not just actors who benefit from the AMTP process. Heather Schmucker, the program's producing director, has helped spearhead initiatives such as the Johnny Mercer Foundation Songwriting Project, a weeklong summer residency for emerging songwriters led by ­leaders in the field, and a marketing practicum with Broadway in Chicago that allows students to create a show's advertising and public relations ­campaign. Stage management and set design students work with Broadway directors and scenic designers, while Northwestern theater and music majors get to collaborate with professional music directors. For The Verona Project, students majoring in radio/TV/film worked with a professional animator to help create hand-generated stop-motion animation vignettes that were projected on stage. "We're always trying to think of creative ways to bring in other talent," says Schmucker.
Musicals are sometimes dismissed as light entertainment, but they can also be windows into the society in which they are created, from the explorations of race in Show Boat and South Pacific to the questions of identity and belonging that infuse Rent and Wicked. AMTP's supporters believe that Northwestern is playing a vital role in moving the genre forward, ensuring that musicals not only continue to be created, but that they emerge from the workshop process strong enough to stand the test of time.
"It's a tricky balancing act, meeting the needs of visiting artists as well as students," notes Greif. "At AMTP, everything is very thought through and well considered so that creative teams have the best opportunity to develop their material in a very open, encouraging environment."
A great musical is a mix of elements — dialogue, songs, story — that provoke an emotional response, an actual physical effect on the audience.
"This kind of storytelling matters," says Dehnert. "That live connection gets more and more important as we move into a digital age. AMTP is a model for how educational institutions can provide inspiration to the rest of the industry. We need to keep telling new stories."