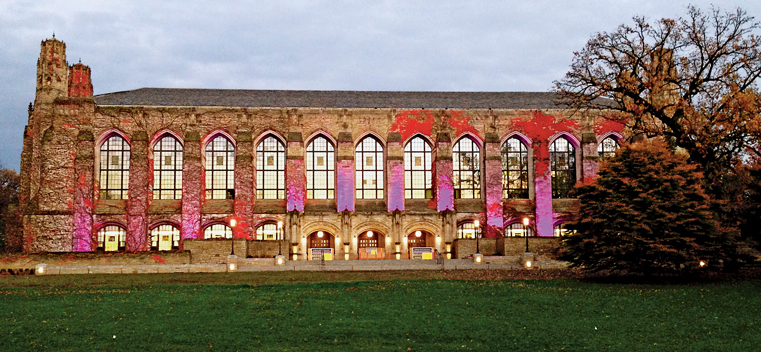 Deering Library is bathed in a purple glow to commemorate the opening of its iconic wooden doors for the first time in 42 years.
A Record-Breaking Reunion
Story Tools
Share this story
Tell us what you think. E-mail comments or questions to the editors at letters@northwestern.edu.
Ever wonder about those strange designations we use throughout Northwestern to identify alumni of the various schools of the University? See the complete list.
Find Us on Social Media
Alumni set attendance record as they celebrated a fun weekend that included a win over the University of Iowa.
Alumni showed their devotion to Northwestern by returning in record numbers for Homecoming and Reunion Weekend 2012 last October. More than 7,700 alumni and friends from all over the world streamed back to campus, smashing the previous all-time attendance mark of 6,000.
Big crowds were the norm throughout the entire weekend as more than 1,200 revelers attended the Friday night pep rally, led by grand marshal J.A. Adande (J92) of ESPN.com and the popular sports talk TV show Around the Horn. More than 1,000 attended the all-class tailgate before the Northwestern football game the next day. Reunion block football tickets sold out for the third consecutive year, as fans flocked to watch head coach Pat Fitzgerald (SESP97) — himself a co-chair for the class of 1997 reunion — lead the Wildcats to a 28-17 victory over the University of Iowa.
Alumni also showed their appreciation for their alma mater by participating in their reunion class gifts. A record 31 percent of reunion-year alumni made a donation to support Northwestern, led by the class of 1962.Forty-five percent of the 50-year class made a gift. In all, the 10 reunion classes gave more than $13 million to support Northwestern.
The classes of 1953, 1958, 1963, 1968, 1973, 1978, 1983, 1988, 1993, 1998, 2003, 2008 and 2012, as well as all young alumni classes, will celebrate Reunion 2013 Oct. 4–6.