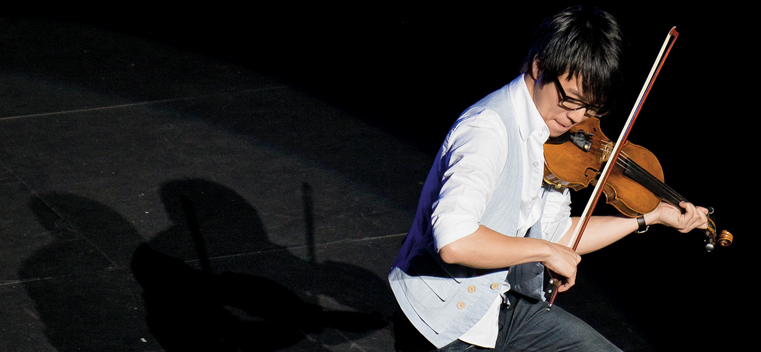 Northwestern sophomore Jun Sung Ahn's "Gangnam Style" video has made him a YouTube sensation.
YouTube Stars Shine
Story Tools
Share this story
Tell us what you think. E-mail comments or questions to the editors at letters@northwestern.edu.
Ever wonder about those strange designations we use throughout Northwestern to identify alumni of the various schools of the University? See the complete list.
Find Us on Social Media
Northwestern music, comedy performers find outlet online.
He's spent the last decade becoming a classically trained violinist, but now 19-year-old Jun Sung Ahn is perhaps best known for his version of the global hit "Gangnam Style" by Korean pop star Psy. Ahn's dance and violin version, or cover, has drawn more than 2.5 million views on
YouTube
, and the video won first place in a competition Psy held in South Korea. "There is actually a video clip of Psy saying my name and congratulations," Ahn said.
In July 2011, just before coming to Northwestern, Ahn, who plays melodies by ear, was urged on by friends to make his debut on YouTube with his rendition of "Lighters" by Eminem. Since then he has been playing new violin covers of pop songs for tens of thousands of fans on YouTube, making many of the videos from his dorm room. (Check out Ahn's YouTube channel.)
"I've gotten a lot of fan messages from people who bought a violin just because they saw my videos," said Ahn, a sophomore radio/TV/film major from Princeton Junction, N.J. "The fact that they're inspired to pursue music just because of my videos is inspirational."
Ahn, who recently participated in the Asian American talent show Kollaboration in Los Angeles after winning the Kollaboration competition in Chicago last summer, is one of several Northwestern students to gain YouTube stardom from their videos. Starting in middle school, piano major Sherry Kim began posting videos to YouTube (see her channel), usually piano versions of anime or video game music. She said she does cover versions of video game music because it has power to evoke emotions and bring a scene to life. 
Her favorite video is a version of Evanescence's song "My Immortal," recorded in Lutkin Hall. Kim arranged and created a piano quartet version of the song and recruited other Northwestern music students — including Ahn — to play with her. "It was a challenge," Kim said, "but I love all the harmonies and emotions. And I wanted to be able to showcase all the great talent we have here."
Junior Lauren Guiteras has used YouTube as an outlet for her comedy. Her videos, posted mostly during high school, often over-exaggerate stereotypes. Her "Confessions of a Hipster" video has accumulated almost 2 million views, and YouTube still sends her a monthly check for ads placed next to her videos.