The Practical Professor
Story Tools
Share this story
Tell us what you think. E-mail comments or questions to the editors at letters@northwestern.edu.
Ever wonder about those strange designations we use throughout Northwestern to identify alumni of the various schools of the University? See the complete list.
Find Us on Social Media
Materials science pioneer Morris Fine has worked to bridge the gap between research and industry.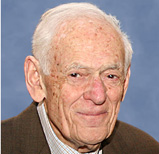 Emeritus professor Morris Fine is 94, and he still comes to work almost every day at Northwestern, as he has for nearly 60 years. The Minerals, Metals & Materials Society will organize a symposium in his honor this March in San Antonio, and Fine decided this symposium would be a good way to address the divide between researchers, government and industry.
"He always tries to bridge fundamental or basic research with actual industrial applications," which is rare, said symposium organizer Peter Liaw (GMcC80), a professor of materials science and engineering at the University of Tennessee and a former doctoral candidate under Fine.
After working on the Manhattan Project and at Bell Labs, Fine arrived at Northwestern in 1954 and helped establish the world's first department of materials science and engineering.
At Northwestern, Fine and colleague Semyon Vaynman (GMcC87), a research professor of materials science and engineering, bridged the divide between basic research and practical application when they came up with a cheaper and more corrosion-resistant type of steel in the mid-1990s. The steel, used for bridges, doesn't need to be painted.
"He thinks not about today," Vaynman said. "He thinks much further ahead."