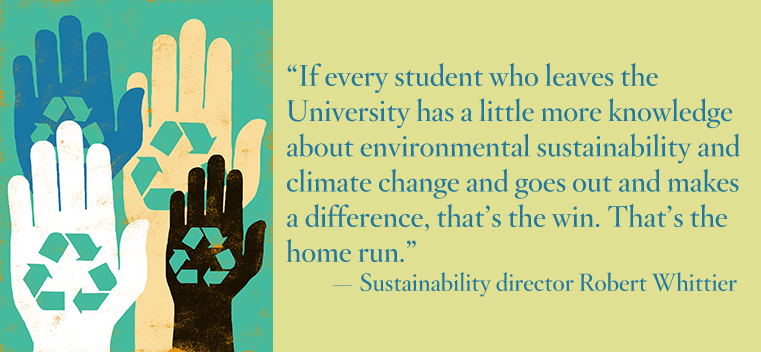 Illustration by Gwenda Kaczor
Sustainability Scorecard
Story Tools
Share this story
Tell us what you think. E-mail comments or questions to the editors at letters@northwestern.edu.
Ever wonder about those strange designations we use throughout Northwestern to identify alumni of the various schools of the University? See the complete list.
Find Us on Social Media
Zero-waste events and energy-efficiency upgrades help reduce Northwestern's environmental impact.
When the Northwestern community gathered in mid-September for Deering Days, more than 2,000 students celebrated the start of the school year with a barbecue and music — and zero waste.
Event organizers used compostable flatware, encouraged attendees to recycle and promoted the use of refillable bottles for drinking water. The event was Northwestern's first waste-free event, and sustainability director Rob Whittier hopes it becomes a model.
Granted, zero-waste events are just one step at a university with more than 20,000 students, faculty and staff, "but we absolutely have to be a leader on this issue," says Whittier, who came to Northwestern a little more than a year ago from a consulting career in sustainability and climate change. "We have to demonstrate to students and our alumni that sustainability is an important issue for the University and that we're taking big action. There's no reason that Northwestern shouldn't be viewed as one of the top five sustainability schools in the country."
That "big action" includes an increase in renewable energy purchases. The University, seventh among universities nationwide for its use of renewable resources, currently offsets 30 percent of its energy purchases through wind energy credits. "By 2014, we're going to be up to 50 percent and one of the top five schools in the country in our purchase of renewable energy," says Whittier, who heads the year-old Office of Sustainability.
More important, the University has committed more than $30 million to campus-wide energy efficiency projects: the Northwestern Energy Retrofit Initiative. One NERI project is a major upgrade to lab ventilation and controls in five medical research buildings on the Chicago campus. The project will include a motion sensor–based system and particulate and chemical detection to circulate air only when necessary. "We're using technology to more efficiently and safely ventilate and heat and cool our spaces," says Whittier. "These projects alone will save more than $500,000 a year."
The University is also working on an analysis of geothermal heating and cooling for some of the new buildings that will be constructed in the coming years, including the University's new visitors center, the new Kellogg School of Management building and the lakeside athletic complex.
Last spring Northwestern launched a food waste collection program. In October alone the University collected 35 tons of dining hall leftovers that were hauled away for composting. And in a partnership with Loyola University and its upgraded biodiesel processing lab, Northwestern is recycling used cooking oil from campus dining halls into a biodiesel fuel that is used in the campus shuttle system.
To encourage student engagement, the Office of Sustainability rolled out its sustainNU educational campaign, including a revamped Eco-Reps program, which recruits a dedicated sustainability student representative in all University and Greek housing, giving "students who are passionate about sustainability an opportunity to engage deeply in the subject with their peers." There are now more than 45 Eco-Reps on campus.
One of the roles of the Eco-Reps is to promote the sustainNU Green Pledge, a simple online checklist of behaviors that students can commit to, such as using a smart power strip or taking public transportation, "reminding people that sustainability is sometimes a set of very simple choices," Whittier says.
Beyond these relatively small steps, Whittier is looking at the University's larger strategy regarding sustainability. He and his staff recently created a sustainability council, which includes high-level faculty and administrators, as well as graduate and undergraduate students. The council, led by earth and planetary sciences department chair Brad Sageman and engineering associate professor Eric Masanet, started meeting in February to map out the University's vision for sustainability.
Whittier is also looking at ways to integrate the University's educational mission with its operational practice of sustainability. "The University is a living laboratory," he says. "If every student who leaves the University has a little more knowledge about environmental sustainability and climate change and goes out and makes a difference, that's the win. That's the home run."