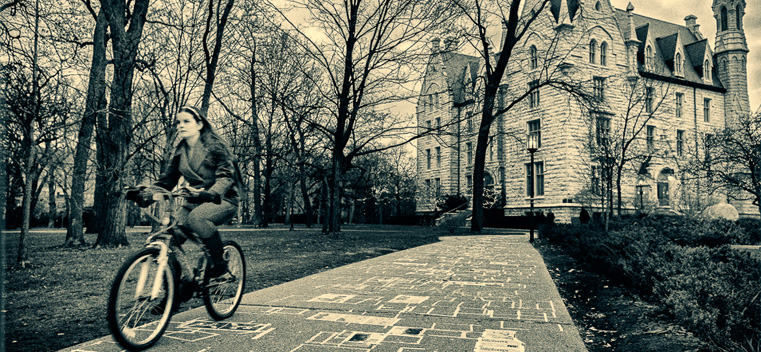 Photo by Stephen M. Levin
Snap Happy
Story Tools
Share this story
Check out Stephen Levin's entire 2012 photo gallery.
Tell us what you think. E-mail comments or questions to the editors at letters@northwestern.edu.
Ever wonder about those strange designations we use throughout Northwestern to identify alumni of the various schools of the University? See the complete list.
Find Us on Social Media
Last New Year's Eve, Stephen Levin resolved to find a method of creative expression that he could share with the world. So he set an ambitious goal — to
document every day of 2012 in photos
. Levin, a lecturer at Northwestern's Kapnick Business Institutions Program and photography hobbyist, captured images on a daily basis for all 366 days in 2012.
Using his Canon digital camera or his iPhone, Levin captured interesting images of daily life. Common images — like a bright pink wheel on a bicycle Levin spotted on the side of the road — and unpredictable occurrences often became inspirations for his photographs. 
"I was downtown by the Chicago River the night of the NATO protests last May," Levin said of his May 20 photo. "I approached a group of skateboarders and asked if they minded being photographed, so they started mugging for the camera."
One day in the fall he focused his camera on the Evanston campus. "I went and literally stood on the sidewalk by University Hall for about a half hour, capturing images. By the time of those photos, I had learned that I could find a photo anywhere if I was patient enough and kept my eyes open."
The final shot of 2012 was a photo of his grandsons, hand in hand, with the older boy flashing a smile at his younger brother. 
"Sometimes it became difficult to find something to shoot, especially when you have to make sure you haven't shot anything similar before, but I made it work," says Levin, who plans on possibly publishing his photo collection as a book.
"Right now the photos are really just representing themselves, but in the future I want to write more about the people behind them," he says. "Every picture has a story."