SlimBooks
Story Tools
Share this story
Tell us what you think. E-mail comments or questions to the editors at letters@northwestern.edu.
Ever wonder about those strange designations we use throughout Northwestern to identify alumni of the various schools of the University? See the complete list.
Find Us on Social Media
Kellogg student's company publishes short e-books in less than a month.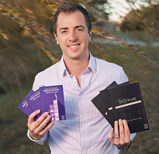 Casey Bankord has decided to take the fluff out of books. Bankord, a Kellogg School of Management student, was inspired to start SlimBooks after his own experience as a published author. When he turned in his final manuscript, the publisher loved it but told him that he needed to add 10,000 words even though nothing crucial was missing. 
"When I think, 'I should write a book about that,' I often don't have 200 pages of stuff to say," says Bankord. "I think this is true for a lot of authors. So they either can the idea or try to expand a 60-page idea beyond what is necessary to fit arbitrary publishing standards."
Bankord and his business partner came up with SlimBooks, a publishing company that produces books that are fewer than 100 pages. In September they launched the website to the public and published 12 e-books. SlimBooks takes less than a month to publish a book from start to finish. Books are published online as $5 e-books at www.slimbooks.com. Readers can also request print editions.